Over the course of the last two weeks, Thierry Brunfaut, a partner at the design studio Base, has taken exactly a hundred minutes to create 20 typographic works, each dedicated to a short bit of wisdom. He calls them "Five-Minute Posters," and while he's been gathering the quotes for some time, he gives himself just 300 seconds to compose them before he blasts the finished product out on his studio's Twitter and Facebook page.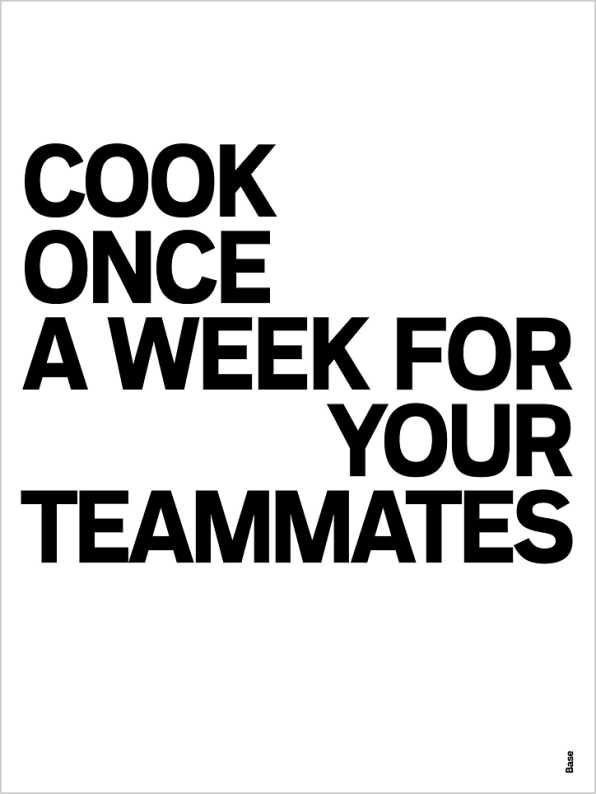 Some convey Internet-age bon mots, like "Your username slowly becomes your real name." Others are bits of studio advice, such as "Treat your intern like a director" or "Cook once a week for your teammates." Others yet are more abstract things to meditate on, koans like "WIRE/LESS/PAPER/LESS," for example. But the hope is that one of the messages might be something that sticks with its recipient a bit longer than the few minutes it took to create.
Brunfaut writes some of the text himself; others are quotes he's collected from colleagues. In a way, they're a response to younger designers' insatiable appetite for wisdom and tips, or "recipes for design," as Brunfaut deems them. "In any case," he says, "I always like it when it doesn't sound too serious. It has to be light."
The form is intended to facilitate their consumption. Honoring his field's long history of text-based posters and messaging, Brunfaut hoped to settle on a series that was easy to make–and just as easy for people to share. The images do have a bit more impact than they would if you just saw their quotes posted as Tweets or plain text status updates on Facebook, but they avoid falling into that trap of the cloying, laboriously designed quotation poster we're so used to seeing of late. Brunfaut sees his slapdash images as the "meeting point between the text quote and the designed quote." The quotes are all set in Baseville, the studio's signature typeface, which is slightly heavier at the bottom of the letters (the base–get it?).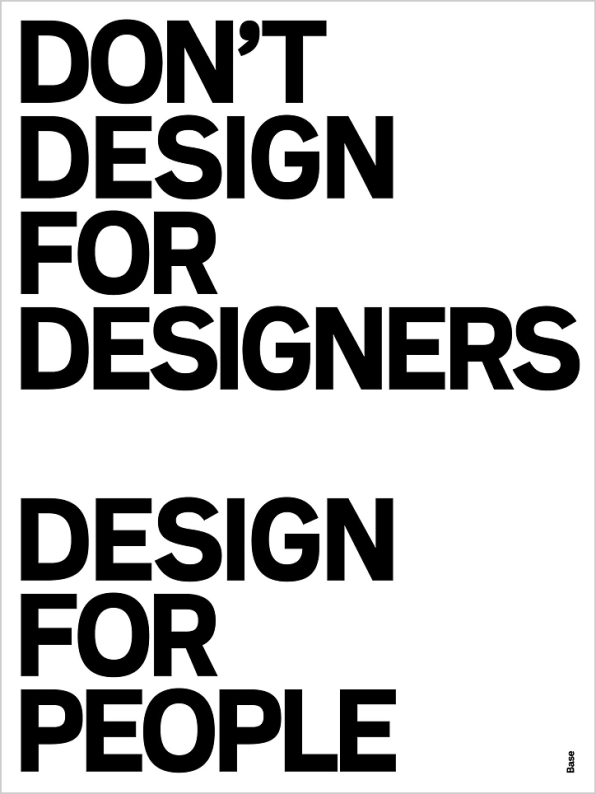 But even for Brunfaut, the time limit poses a fun challenge. "This acceleration forces you to make immediate design decisions," he explains. "How do you get the message across with impact? One type, no colors, lower- or upper-case, block or aligned, big or small. Five minutes and stop. Finished."
Some of the finished images resonate a bit more than others. The most popular one so far, at least according to the number of Facebook likes, is a reminder that all the design recipes in the world don't matter if you're not making good work for the greater community. That poster reads: "Don't design for designers. Design for people."
See more Five-Minute Posters on Base's Facebook page or visit the studio's site.