Every era has its architecture of excess, whether it's correlated to a depression or a boom. Nineteenth-century Vienna had the Ringstrasse, where wealthy aristocrats struggled to outdo one another with cheaply built, flashy mansions. New York in the '00s has the High Line, or more specifically, the streets that run along the edge of the High Line, where every year brings a new smattering of glittering office and condo buildings, from Neil Denari's HL23 to Della Valle + Bernheimer's 459 West 18th Street.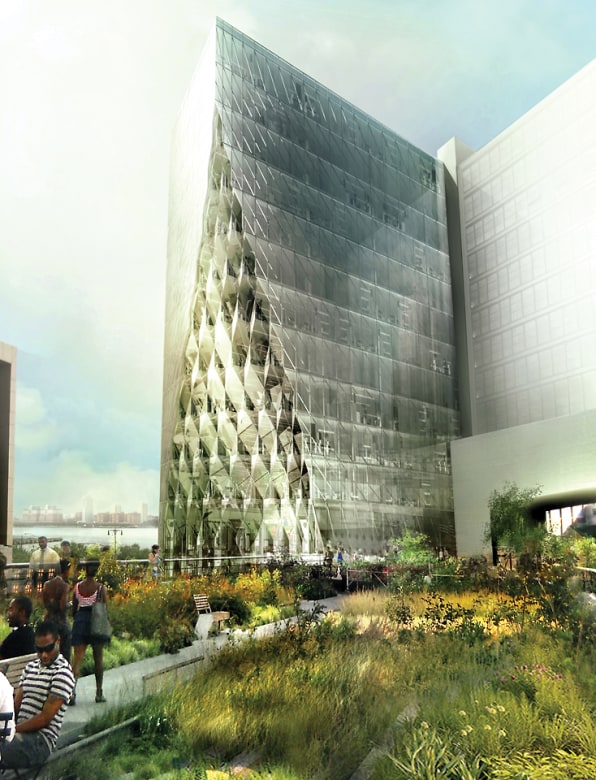 This week, the Chicago-based Studio Gang unveiled its own forthcoming High Line building, which it calls the Solar Carve Tower. Formally, the tower falls into stride with its neighbors along the elevated park, with a gem-like facade covered in faceted panes of glass. But the design–slated for completion in 2015–also makes some interesting concessions to context and environment.
"Our Solar Carve Tower employs a surprising twist to traditional zoning logic," explain the architects. "Geometric relationships between the building form and the sun's path, as well as the viewshed between the park and the Hudson, guide the shave and shape of the tower."
In other words, the sloping cutouts that shape the facade are extrapolated from the path of the sun, allowing light to fall into the interior spaces that the 13-story tower would have permanently overshadowed. The cutaway sections are faced in sawtooth glass that reminds us of Olafur Eliasson's dangerous-looking (but beautiful) chandeliers. The prismatic details are likely meant to exploit the unusually open, atmospheric conditions of the site, which offers a rare, unobstructed view to the Hudson (and the sunset).
It's a trope we've seen quite often with architects like Bjarke Ingels, whose housing schemes tend to take shape based on simplified sun and ventilation diagrams. In fact, only 40 blocks uptown, Ingels's forthcoming first New York building is predicated on similar solar calculations. Studio Gang's most well-loved building, the Aqua Tower, relies on a similar mix of formal gestures knit from environmental observations.
Not everyone will be excited to learn that it will perpetuate the onward march of demolition that's quickly clearing away any remaining evidence of the neighborhood's past, for better or worse. But it is a polite gesture among ostentatious neighbors, striking an elegant compromise between the concerns of hungry developers and advocates for public space. It is, as Jeanne Gang explains, "a skyscraper that enhances the public life of the city in ways that a stand-alone icon cannot."
[H/t eVolo]