We've all heard of dog houses, but you've probably never heard the phrase "dog architecture." This divide is something that Imprint Venture Lab and Kenya Hara, art director at Muji, want to change with their latest project, the aptly named Architecture for Dogs.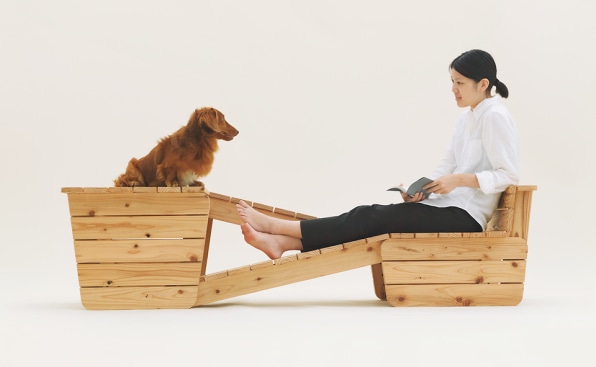 In the hands of a Redditor or a snarky Tumblr blog, the new website, full of high-concept dog dwellings, could be easy fodder for a joke. But for Hara, who doesn't even claim to be a dog lover himself, reconsidering architecture from a dog's point of view is a very pure way to rediscover "what architecture really means."
Projects on the site challenge traditional notions of scale, perspective, and function, ranging from a variegated rug of aluminum tubes–a dog cooler for those hot summer days–to a pair of ramps for short-legged dogs, which double as a shared recliner for human and dog alike. The projects are united with care. Each is crafted to a dog's concerns. For instance, a hammock for Jack Russell Terriers isn't just a hammock; it's a hammock stretched from the owner's clothing, meaning the dog can appreciate their smell while resting. A "mobile home" for Shibas looks like a stroller at first glance, then you realize its materials are meant to mimic the natural shade of a tree and the carriage has been designed to carry the dog as closely to the ground as possible, allowing its short legs to hop out at will.
"We chose dogs because it's a universal topic. Wolves interacted with humans, and it changed the course of their history," Hara tells Co.Design. "Dogs are man-made creatures forced to cohabitate with humans, so architecture for dogs is a reasonable inquiry."
Each design is downloadable as a free blueprint, and next year, the collection will be available in flatpack kit form.
Where exactly the project is headed is still uncertain. Is Architecture for Dogs a purely academic endeavor? Are people meant to actually build these pieces? Is it more a beacon for the pet industry? Is it a beacon for the architecture industry? Could the site possibly serve all these roles? We can't say, but the overarching lesson is notable:
Dogs are a species made for humans, forced to live in houses also made for humans. With Architecture for Dogs, Hara has assembled a team of elite designers to reconsider the dog's experience in an otherwise human world. And reconsidering dog-level design, in turn, is a means to allow humans to be more mindful of their own environments.