Brooklyn-based Reed + Rader are at least partially responsible for popularizing the GIF in fashion and editorial spreads. Over the past four years, the duo (who are a couple) have created GIFs for V magazine, Dazed and Confused, W, and Jil Sander, among dozens of smaller editorial outlets and brands.
But in London last week, the pair branched out into the physical realm with Cretaceous Returns, an installation that collects some of their best work in a gallery they transformed into a prehistoric jungle. On the walls, videos of the artists dancing to dubstep dressed in cardboard dinosaur costumes and green-man-style bodysuits played in a loop. Huge paper dinosaurs presided in the gallery, and guests were given headphones so they can dance along. But sometimes it's better to not try to explain these things. Like dubstep itself, it's best just to let the bass drop:
Reed + Rader is Pamela Reed and her self-professed boo, Matthew Rader. The two live and work together in Brooklyn, and seem to document just about every aspect of their lives–from their rooftop garden to their four awesome cats–online.
"We're on the Internet 10 hours every day, it's the inspiration for a large chunk of our work, so we started to question why we weren't making work for the environment we lived on," the duo explained recently. "In 2008 we started to think more about the Internet as our platform. Shortly thereafter we were commissioned to do a GIF story for a fashion magazine website and that in turn got us the most press we had ever received. It led us up to abandoning print publications almost completely and creating work for screens almost exclusively."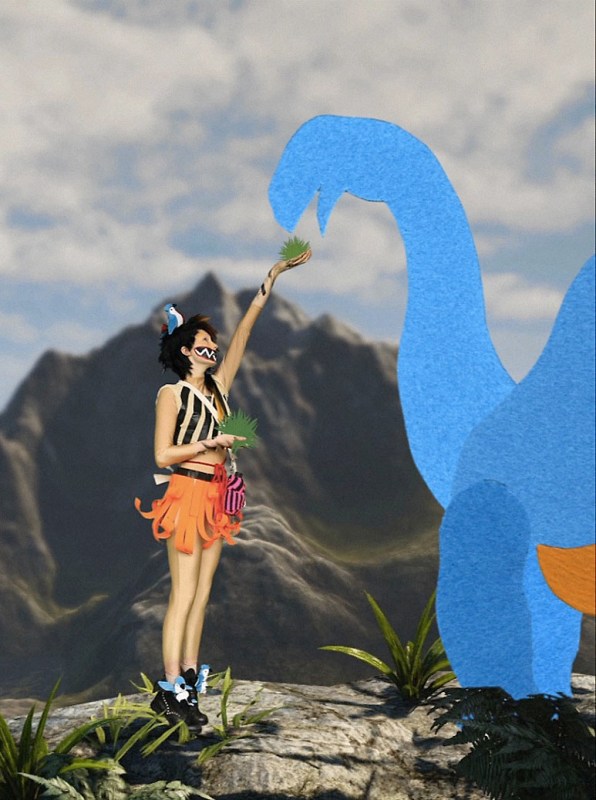 On the duo's professional site, you'll find a matrix of roll-over logos that lead to the dozens of fashion editorials and campaigns from the past few years. Nearly all of them are GIF-based, from a series of somber black-and-white portraits to what must be the weirdest and most awesome tribute to pizza ever made (which is saying a lot). Cretaceous Returns is their first full-scale solo exhibition in the U.K. According to MTV, they're currently experimenting with augmented reality and Microsoft Kinect, so be on the lookout for interactive dinosaurs in the near future.
Cretaceous Returns will be on view at 18 Hewett Street until November 20th.
[H/t It's Nice That]