Swinging is a self-contained pleasure, an activity where the work and reward are one in the same. But for their pop-up installation outside the International Centre for the Arts in Guimarães, Portugal, the art collective Moradavaga added an unexpected twist to the childhood pastime: a little bit of light, powered solely by the motion of the swings themselves.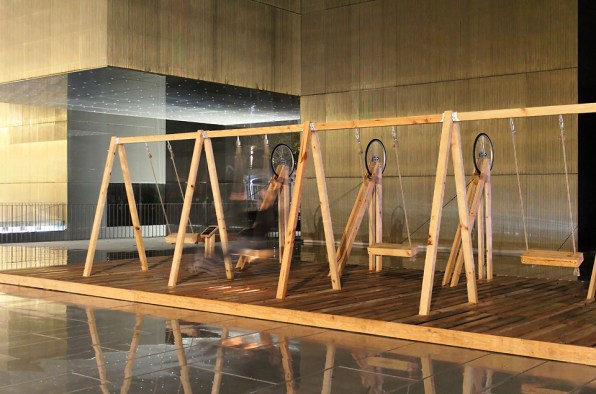 Each swing is connected by a chain to a bicycle wheel behind it. When the swinger starts pumping, a dynamo attached to the spinning wheel powers two lights, located beneath planks under the swinger's feet. The electrical system runs "hidden from view," the creators explained, creating a bit of a surprise for swingers when a soft glow of light appears underfoot.
The installation is a nod to the history of the city in which it's located. Guimarães, in Northern Portugal, is considered to be the birthplace of the nation, and historically it was a thriving center for industry, dotted with factories that pumped out textiles. The artists behind the work, Manfred Eccli and Pedro Cavaco Leitão, explained that they wanted to create something that would put people back in touch with the simple human-powered mechanisms that once drove the city, in addition to giving them a fun new way to interact with one of its most well-trafficked spaces today.
Guimarães was designated as this year's Capital Of Culture by the European Union, and the swing was one of 15 pop-up installations selected to give "new life and purpose to vacant or neglected urban and commercial spaces and places around the city by means of temporary interventions." Just one thing to keep in mind: the chain attached to the back of the seat precludes pushing by a trusted friend. If you want to see the lights, get ready to pump.
See more of Moradavaga's work on their website.
[Hat tip: Dezeen]