For such a seemingly simple object, finding a decent bike light can be surprisingly difficult. As someone who's lost scads of lights to forgetfulness and theft (too stupid or too trusting–or both?), I've owned plenty of poorly designed versions, with their crappy velcro fasteners, faint LEDs, impossible-to-remove batteries, and so on.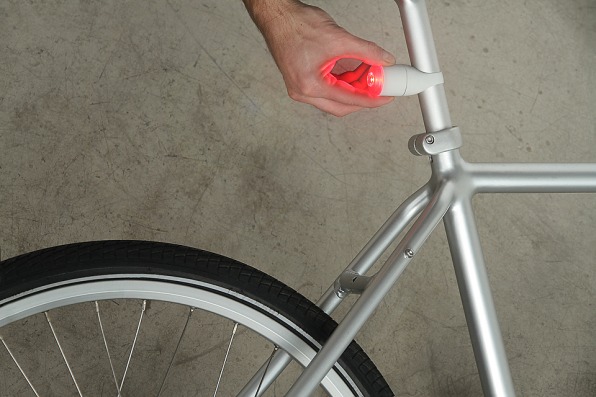 In Denmark, legislators are attempting to solve the problem with a new law that standardizes the quality of bike lights. This year, Danish law was amended to include an order that all bike lights sold in stores must be visible 900 feet away, must stay at maximum brightness for five hours, and be fitted with a special hood that protects pedestrians and drivers from being "dazzled."
In reaction to the new law, Copenhagen product designers KiBiSi are introducing a new light called iFlash One, which meets all of the new guidelines about brightness, stability, and charge time. "The integrated wide-angle lens ensures a safe ride while fulfilling the new Danish legal requirements for bicycle lights," explain the designers.
Like many other systems, the iFlash mounts to your seat post or handlebars with a permanent bracket. The LED lamp itself detaches and re-attaches with the click of a magnet, so you can take the light with you when you park. A similar magnetic light system appeared on Co.Design earlier this year, but only worked with steel frames. iFlash One solves that issue with its bracket, which fits the vast majority of bikes.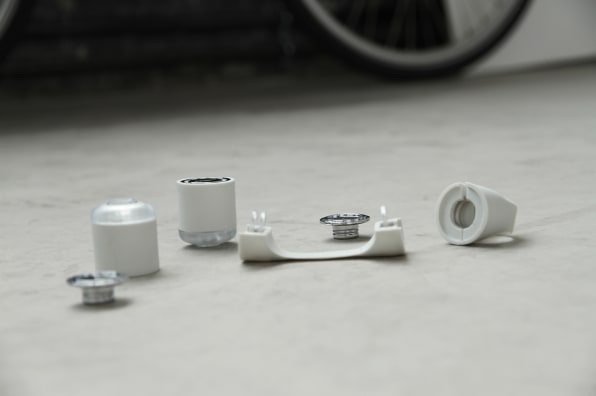 "iFlash One is designed with a holistic approach, merging light and fitting into one object with an overall and simple DNA," says KiBiSi designer Lars Larsen. "I like that the magnet seems like magic." The light is sold in sets of two–one rear and one front–which helpfully stick together when they're not in use. They're also pretty stylish, if that's your thing. After all, the Danes have a reputation for bike sartorialism to uphold. "I am very colorful," says the light in a cute first-person product description. "I love being at the forefront of fashion. New season new colors–I love it!"
It's tough to judge whether the magnetic connection between lamp and mount is strong enough to withstand bumps and potholes–a common problem with other magnetic versions. But if they are, iFlash is a clever solution for those who, for whatever reason, can't seem to hold on to their lights. They're only available online here for now (the site is in Danish), though KiBiSi may end up launching them in U.S. stores, too.