We've all bought an album for a single song, only to put said song on repeat until our ears bled. We know it's bad for us–the audible equivalent of drinking too much tequila one night only to be sickened by its smell forever more. But we can't help it. It's a compulsion as innate as our love for music itself.
The Infinite Jukebox is an ode to this mass disorder–and an enabler of epic proportions. Built by Paul Lamere during MIT's Music Hack Day, an Echo Nest analyzer sucks in a song and maps its beats (including harmonic, timbre, and loudness data) around a big circle. Then it finds unique points of similarity that bridge together various parts of the song to create an infinite loop. It's so smooth, sometimes it's difficult to even notice where the song begins and ends.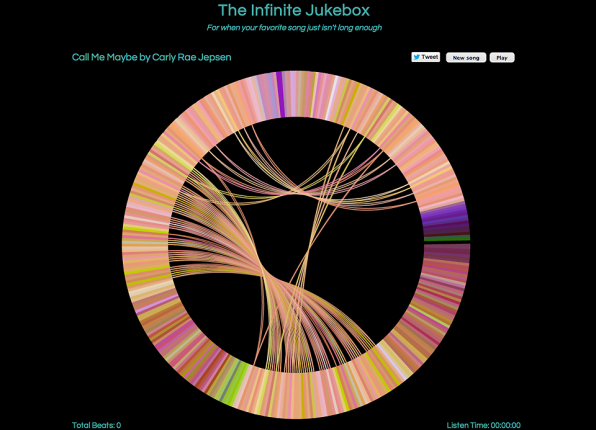 "The trickiest bit of it was that different genres of music will yield extremely different song graphs. Songs with lots of repetition, such as a dance or a dubstep track, will want to loop at nearly every beat, yielding a song graph with thousands of paths. While a classical music track, using the same similarity threshold, will have very few paths," Lamere tells Co.Design. "To get the best results, the application dynamically adjusts the similarity threshold until the number of loop points in the song is within an ideal range. And music that has no repetition will not work."
In other words, there's a bit of programmed art behind all the science. But getting the music to loop properly was only part of the challenge. Lamere also wanted users to understand how this heady process was working.
"It can take many minutes of listening to an infinite version of a song before it becomes clear that the song is being dynamically remixed," he explains. "I wanted a way to quickly show how the remixing was occurring that would give the listener insight into the underlying workings of the app."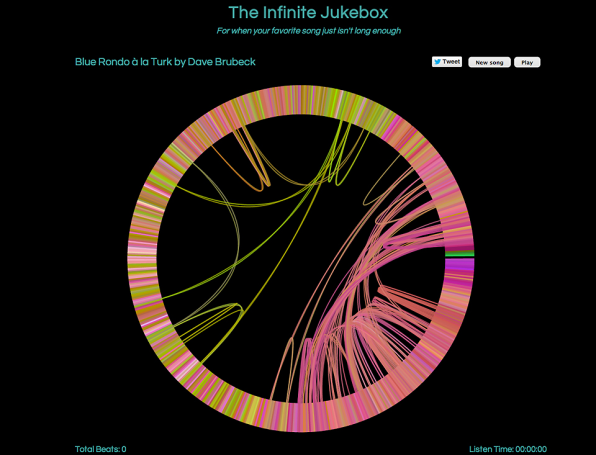 So he came up with the brilliant wheel, a circumference of beats, connected by parabolic spokes. Even without the context of software-based beat analysis and AI composition, the interface is so perfectly articulated that you can immediately tell what's going on during your first playthrough of "Gangnam Style" or "Call Me Maybe." No doubt, it helps that the visualization is so quietly empowering. Mixing can be dynamic, so you're never more than a mouse click away from exploring a new bridge between loops.
Despite being extremely fresh out of the gate (less than a week old at the time of this writing), the Infinite Jukebox has already welcomed thousands of users. Because of this early popularity, my second visit to the site found it struggling to keep up with traffic (in fact, I wasn't able to load a single song). If this happens to you, bookmark the page and try again later. It's most certainly worth a few minutes of fun, though blocking off an afternoon might be a better recommendation. Just choose your songs wisely.
"Some people are rather perverse, generating infinite versions of the Batman theme and the Hampster Dance," Lamere admits. "Why would you want an infinite version of the Hampster Dance?"