Unlike many of his peers, Simen Johan isn't one to quibble over the use of Photoshop. The 39-year-old photographer embraced the tricks of his trade long ago. "Photography has never really been that interesting to me as a medium if all you do is capture already existing things," says Johan, who was born in Norway and is now based in New York.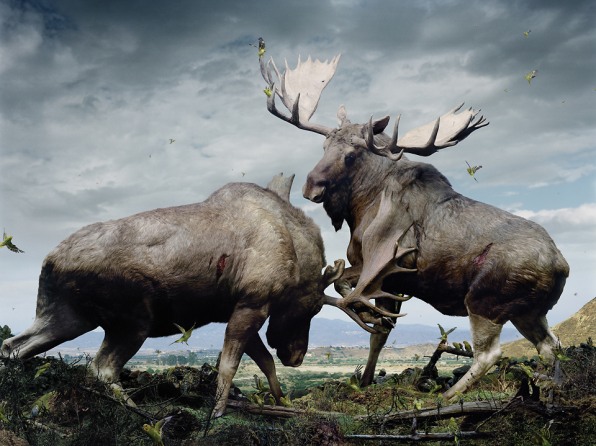 Last week at Brown University's Bell Gallery, Johan unveiled several new works in Until the Kingdom Comes, a series he's worked on for nearly seven years. The images–which show anthropomorphized animals fighting and socializing–are enthusiastically fictional. Too synthetic and complex to affix with the brittle tag "nature photography," they're more like illustrations, knit on his computer from scraps of sculptures, landscapes, taxidermy, and even a few photographs of honest-to-goodness living animals.
Johan begins many of his images by photographing–on film–animals on farms or sanctuaries. Then, he scans the images and surgically reassembles them, using carefully constructed dioramas, actual landscape shots, and details from other photographs. One of his first Kingdom images to go viral online showed two owls sitting on a fog-hemmed picnic bench, tears leaking from their eyes. At the Bell, a similar composition has two foxes snarling with bloody snouts, an inverse and equal of the owl image. Some of the pictures are as wide as eight feet across. In some cases, he works in sculpture, weaving extensions into the fur of arctic wolves and caribou.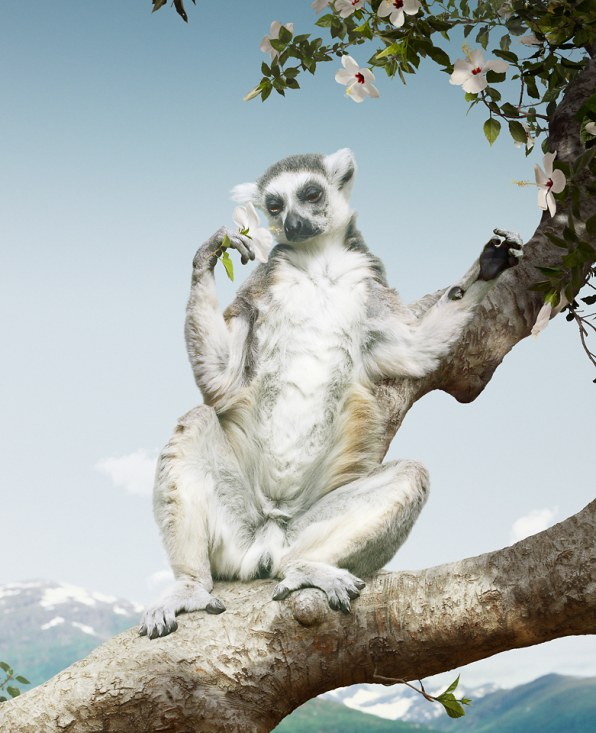 According to Johan, the series' title refers "less to the kingdoms of the bible and natural world, and more to the human fantasy that one day, in some way, life will come to a blissful resolution." In simpler terms, the perfection of each image–they look like car ads, don't they?–mirrors our very human desire to tie things like nature up in a bow. Underneath the digital trickery lie ominous human themes, like vanity, and in some cases, cruelty.
"If you look at anything in life, you realize that things and situations are never quite what they are made out to be," Johan confirms. "There is no finite human understanding, only the process in which we believe in our inconsistent and often delusional senses, feelings, perceptions, and urges."
Simen Johan: Until the Kingdom Comes is on view at the Bell Gallery until February 17th.