Over the past decade, the fiscal crisis of higher education has unfolded across the University of California system. And when a school has lost many millions of dollars in state funding, engineering a new identity might not be the first issue on the list. Or even the hundredth. Yet the UC system has introduced a sweeping new rebranding this month, engineered by an eight-person team and led by the school's creative director, Vanessa Correa, and art director, Kirill Mazin.
How did graphic design get the attention of UC's administrators during a time of fiscal crisis? Back in 2010, they asked Correa to come up with a piece of visual collateral that would help them make their case to then-Governor Arnold Schwarzenegger. She designed a data-driven book that was presented to the governor at a roundtable meeting. The discussion led to the restoration of $305 million in funding to UC.
It was a huge victory–of which the book was only a small part, of course–but it gave credence to Correa's belief that good design could have a tangible effect on the school's prospects. "[It] softened the ground for the more holistic change we were envisioning, and helped everyone understand the power of design for social engagement and change," she tells Co.Design.
A coherent UC brand seemed like a logical next step. "Our unit was formed with the express purpose of improving the university's ability to tell its stories," says Correa, who was principal of her own studio in Chicago before moving west. "How can we make them intelligible and relevant to the public?" UC is a hub not only for groundbreaking research, but for the Bay Area's burgeoning startup scene. The identity would need to reflect all of that.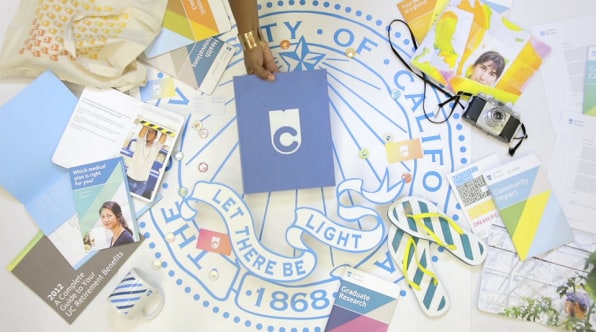 In the 140-odd years since it was founded, the school has relied on its seal, an open book above a script reading "let there be light," which appears in thousands of fractious versions all over the University's 10 campuses. The design team started by pulling out the profile of the book and rounding the bottom edge, creating a monogram that functions as the new logo. "The monogram is but one piece of a visual ecosystem that replaces a hodgepodge of different symbols, typefaces, and colors with a coherent, consistent package," Correa says.
The monogram is a logo, but it can also be applied as a pattern, a contour, and a framing device for photos (which, yes, look like they came from a Lomo). Its vagueness is its strength–anything more detailed would get in the way of the pastel and neon textures that animate the identity. It is "boldly Californian," in the words of the school. "It's meant to be scalable, flexible, dynamic, and adaptable; something that would let us talk to our diverse audiences while maintaining recognizability," Correa adds.
Does the brand give up some of its legacy in the exchange between 19th-century seal and 21st-century Photoshop gradients? Maybe. But take a look at Onward California, its sleek new fundraising site–with its snappy Vimeo videos and Twitter and Facebook integration–and you'll see why UC is interested in breaking with the past. Correa (who is a Pinterest power user with more than 500,000 followers) understands the value of relating UC to California's contemporary reputation as a hub for startups and tech innovation, which she says has had "a strong impact on the visual landscape here in California."
UC, and higher education in general, is in a crisis that far eclipses the scope of branding. But as universities are forced to depend more heavily on fundraising and development, how they present themselves to the public is becoming increasingly important.