If you were to do a statistical analysis of what medium people refer to most when talking about modernism, "scent" probably wouldn't top the list. Or even the top 10 list. When we talk about modernism–that slippery, brittle term–it's usually in reference to fine art, architecture, performing arts, or film. Even cooking.
But why shouldn't perfume, an art form that grew up around the turn of the century, have its own place in the canon? The Museum of Arts and Design is attempting to rewrite history with the creation of a department of olfactory art, which is staging its first exhibition this winter. The Art of Scent 1889-2012, which opened on the 20th, examines 12 important perfumes beginning with Aimé Guerlain's 130-year-old classic, Jicky. "While these perfumes are regularly experienced, they are seldom acknowledged as works of art," explains curator Chandler Burr, who regularly hosts "scent dinners" whose courses are served through the nose. "My goal for this exhibition is to transform the ways in which people respond to scent artists and their art."
Installed in a remarkable sensory-limiting space designed by Diller Scofidio + Renfro, the show invites visitors to smell–truly smell–the history of perfume in the modern world. Each of the 12 scents is experienced in a white cube, devoid of markers like logos and text. The smells are dispersed by motion-activated "minutely focused streams of air," as opposed to alcohol-based diffusion techniques. It's a purified version of the commercial perfumes, meant to allow regular noses to detect nuance and layering. A separate area gives visitors a chance to discuss the scents with experts and follow the evolution of Trésor by Sophia Grojsman.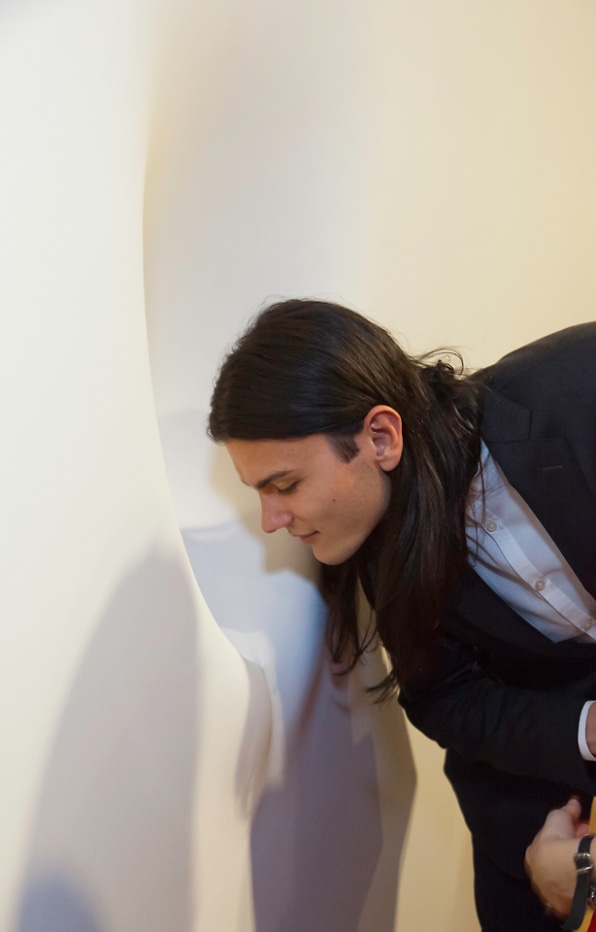 Burr assigns the scents names lifted from architecture, calling Daniela Andrier's Untitled (for Martin Margiela) a "Post-Brutalist" scent. And sure, Andrier's work (along with scents from Comme des Garcons and others) represents a break with the "representational" scents of yore, which mimic florals the same way Monet mimicked water lilies.
The problem seems to be linguistic. Scent doesn't come with its own language, perhaps because human noses are fairly underdeveloped compared to our other senses. Indeed, Burr argues that describing a scent with a word like "sandalwood" is like describing a Frank Gehry building with the word "metal." Is a cohesive vocabulary the thing that separates modern scent from, say, modern architecture or art? Andrier, who has designed some of the most interesting perfumes of the last decade, is remarkably humble about how her work fits in to culture at large. "I do think it takes a creative soul to make fragrances," she told the New York Times. "But I don't think it makes us artists."
The Art of Scent is on view (uh . . . on smell?) until February 24.