Bikes haven't been just about mobility for a long time. At a glance, you can tell whether a bike's owner is an adult or a child, outdoorsy or urban, hippie or hipster. That's why Rizoma, an Italian motorcycle accessory company, has designed a bicycle to be a fashion statement.
"We were looking for a cycle not for sport, but something different, like a dress!" explains CEO Fabrizio Rigolio. The result was the 77|011 Metropolitan, an aluminum and carbon fiber bike that weighs a mere 17 pounds, yet has its own performance completely overshadowed by unique design. The difference–that your eyes have probably noticed without your brain processing–is the bike's lack of an extended seat tube. Without that long, straight bar in the way, the frame ever so slightly bubbles outward, featuring curves you simply don't see in this medium.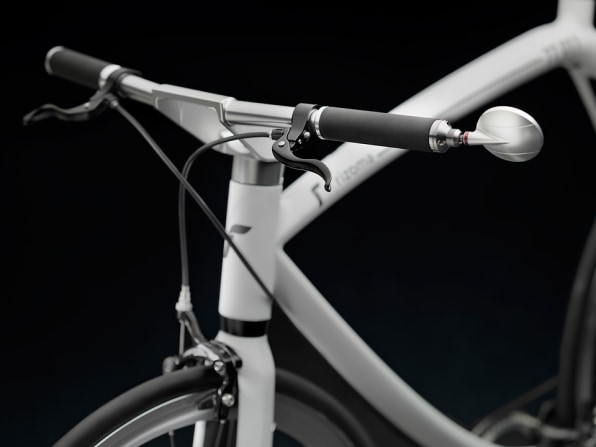 Rizoma says that the frame is "geometrically perfect," distributing the rider's weight to negate the need for the seat tube. Even in a mostly transparent bike frame, it creates an airy effect well-complemented by the minimal belt-drive propulsion system. That belt is good for 9,000 miles of biking, and with a pull of a lever and the flip of a tire, switches from fixed gear to single speed.
Notably, Rizoma both designed and is manufacturing every component of the 77|011, assembling it onsite at their headquarters in Italy. Then again, you don't reimagine the status quo by outsourcing. If you'd like one of your own, the 77|011 is available now for $4,800.