Most of us know Jens Risom as the Danish furniture designer who, at the tender age of 26, cofounded Knoll Furniture Company with the titular Hans. From his perch at Knoll–and later from his own firm, JRD–Risom popularized midcentury modern design in America (his chairs sat in the Oval Office for a time in the 1960s).
Risom's legacy as a furniture designer has blossomed over the past decade, thanks in part to shelter magazines like Dwell, which has single-handedly rekindled popular interest in midcentury design. But in the magazine's November issue, Amanda Dameron features Risom in a lesser-known role: the architect.
In 1965, Risom designed a modular home on Block Island, a largely seasonal beach town a ferry ride away from Narragansett, Rhode Island. Whether because of privacy concerns or mere inattentiveness, it has remained largely unacknowledged. It's difficult to even find. In fact, despite spending many summers on Block Island, I have no memory of the neatly gabled home, which sits on the northern tip of the island atop its tall dunes.
In a beautiful little film short, Dwell asks Risom–now 97–to reminisce about the home, which is still in use by his flock of children and grandchildren. The simple A-frame structure was built by a three-person team from a Massachusetts prefab home company, and according to a 2010 article in House and Garden, cost only $20,700 ($145,000 in 2011 money). A glass-faced wall faces north, out toward the Atlantic, where light pours into the open-plan kitchen and living space (full of Knoll furniture, of course). An open-air loft provides bunks for the kids. The floorboards are bolted into a robust foundation, which has withstood nearly 50 years of hurricanes–no small feat, especially for a prefab timber home.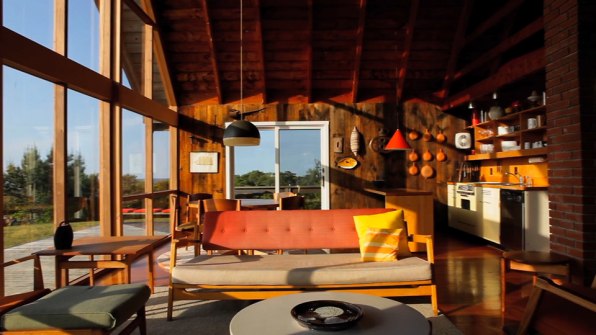 The house was featured in a 1967 issue of Time, after Risom criticized one of their editors for writing about beach houses average readers could never afford. "Prefab today is still very interesting," he tells Dameron. "I don't think it's being used enough." Risom, who spent his entire career with one foot in design and the other in manufacturing, still has a keen eye for how the average consumer relates to design. "Good design was very much part of function. But good design meant that it was easier to work with, it looked better, and more people would buy it," he adds, crucially. "That was very important."