As long as humans have made art, they've looked to the flora and fauna around them for inspiration. Botany gives us a natural language of patterns and colors that artists have drawn on for millennia. So in a way, Rob Kesseler, a professor of ceramic art and design at Central Saint Martins, isn't doing anything his ancestors didn't do. It's just that he's doing it with all the resources of modern science.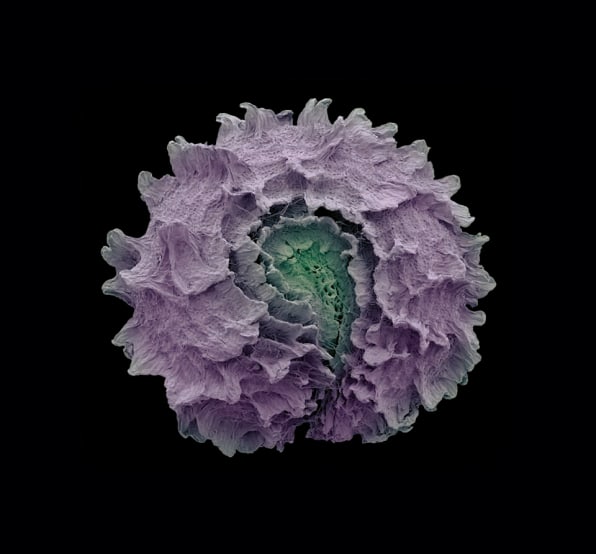 Kesseler's primary tool is the scanning electron microscope, which scans specimens with a beam of electrons and spits out a series of super-precise files that are compiled into a single image. In Phytopic, his ongoing series of images of seeds, fruit, leaves, and pollen, he coats his samples in a fine layer of gold, and then images them using the SEM. In the post-production process, he paints layers of color and texture onto the images, he explains, "just as the original plant employs color-coded messages to attract an audience of insect collaborators." His microscopy works have been lacquered onto ceramic kitchenware, engraved in the window panes at Oxford's Botanic Garden, and printed on silk banners.
Three books have sprung from Phytopic, each co-authored by Kesseler and seed morphologist Wolfgang Stuppy, with whom he works at the Royal Botanical Gardens in Kew. One focuses on seeds, another fruit, and a third, pollen. Seeds: Time Capsules of Life contains rare images of the seeds being collected by Kew's Millennium Seed Bank, where Kesseler has worked with scientists who are attempting to catalog the world's biodiversity since 2000. The specimens are astoundingly diverse. For example, the dusty, fog-like seeds of an orchid are exhaled by the million, while the Seychelles nut contains just one that can weigh dozens of pounds. "The smaller they are, the more intricate and crazy their surface patterns are," Stuppy told the Smithsonian this month.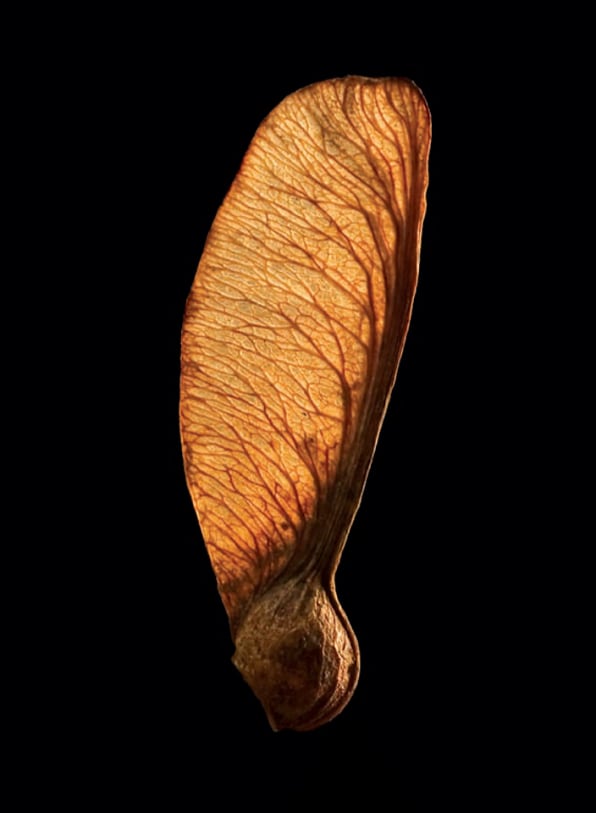 Kesseler is quick to point out that his work deviates far from the specimens botanists use in their work. He spends hours coloring the images in Photoshop, until they're realer than real–not unlike the astonishing botanical illustrators of the 19th century. "Historically the work of the finest botanical artists has risen above the mere recording of specimens for scientific purposes," Kesseler explains in an essay he wrote for Infocus magazine (PDF here), "and in creating this new body of work I am striving towards communicating the same sense of wonder within a contemporary context."
Check out more of his excellent work here.