At first glance, David Rockwell seems an unlikely candidate to popularize "adventure play" in America. His eponymous firm has built strings of luxury hotels and residences all over the world. But a few years ago, after becoming a dad, he set out to design a small Manhattan playground that would inspire creativity and self-directed play, and ended up sparking a revolution in playground design. Today, Rockwell's Imagination Playgrounds have been installed in 600 locations worldwide, inviting kids to collaborate to build their own structures out of hundreds of soft blue components.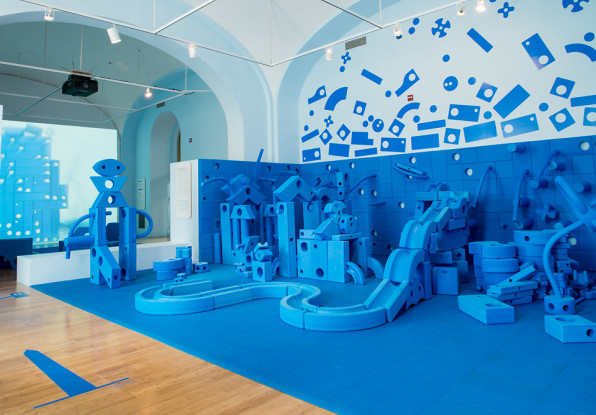 This month in Washington D.C., the National Building Museum is staging an exhibition devoted in part to Imagination Playground. Installed in the museum's wide galleries, Play Work Build chronicles the history of active play in the most appropriate way possible: by asking visitors to actually play the games. A massive series of shelves offers more than 2,300 architectural and construction games, from Froebel Blocks to Tinker Toys. Some of the building games date back to the 1870s.
One gallery over, the curators have installed a full-scale Imagination Playground, where kids (and adults) are free to build with the oversized blue components. "Blocks have always been a fundamental element of play," says Rockwell. "[We are thrilled] to create a unique indoor play space within the historical context of construction and block play." In another area, Rockwell's digital interaction team, LAB, has designed an installation where jumping and dancing in front of a projector lets kids build and raze digital blue blocks.
If you grew up in Europe, "adventure playgrounds" are old hat: They've been popular since World War II, when kids created their own ad hoc playgrounds from the heaps of rubble left in the wake of the fighting. Architects began designing playgrounds that let kids "play" in entirely new ways, experimenting with real building materials and other unstructured experiences. But it took Rockwell, and his unthreatening blue foam blocks, to get more litigious American parents to sign on to the idea.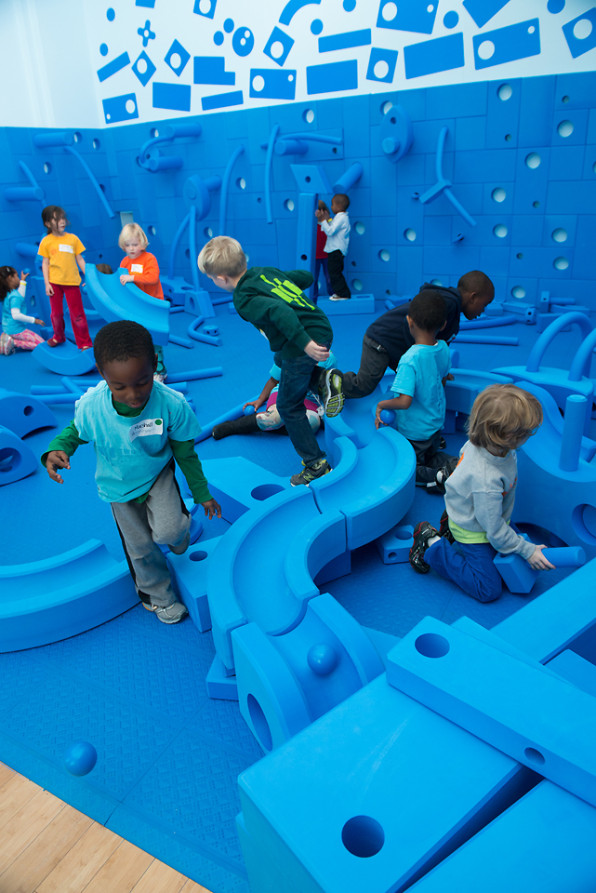 Scientists and designers have long been onto the idea that play ends up shaping our brains. But a growing group of designers believe that specific types of toys and activities can target specific types of thinking in kids. Look no further than the smash success of Goldiblox, the Kickstarter-funded toy set designed to get girls into engineering. Frog designer Laura Seargeant Richardson took the idea a few steps further in a story on Co.Design a few months ago, pointing out that "85 percent of today's companies searching for creative talent can't find it. . . Play is our greatest natural resource. In the future, economies won't just be driven by financial capital, but by play capital as well."
What's really fascinating, and what's thrown into stark relief by Work Play Build, is that this idea isn't new at all. It dates back at least to the industrial revolution–when we as a society began thinking of toys as seeds to be sewn and harvested, later in life, in the form of innovative thinking.
Play Work Build is on view until November 18, 2014.