Just last month, Co.Design wrote about a French architect's plan to build a trampoline bridge across the Seine. Now, a group of Estonian architects have built a trampoline walkway through a Russian forest. Mathematically speaking, we're only one piece of trampoline architecture away from a full-on trend.
Salto Architects' 560-foot-long trampoline walkway, Fast Track, was built this summer as part of an emerging architecture festival called Archstoyanie. The six-year-old event is held in the small village of Nikola-Lenivets, a few hours outside of Moscow, that has recently blossomed as a center for land art. The community has a surreal flavor, producing installations like a wooden replica of the Large Hadron Collider and other otherworldly follies that are sometimes conflagrated, à la Burning Man.
Salto, which is based in Tallinn, was one of five firms invited to participate in the festival this year. "Fast Track is a road and an installation at the same time," explain the young designers, who had to cut out a trough of land about two football fields long to create the installation. Then, the team installed an anchorage system to hold the long rubber mat taught. In the end, it's not all that different from the trampoline you had in your backyard. During the festival, Salto held performances and events on the walkway, inviting dozens of visitors to experience it themselves.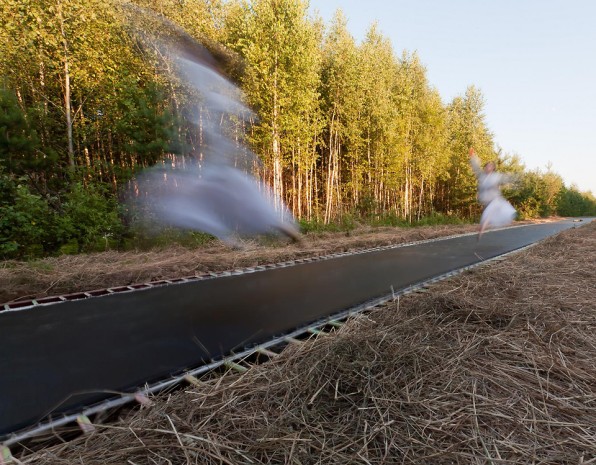 So, by calling it a "road," are the architects suggesting that such a scheme could be implemented somewhere other than a festival in the Russian woods? Actually, yes: "It challenges the concept of infrastructure that only focuses on technical and functional aspects and tends to be ignorant to its surroundings," Salto's designers write. "Fast Track is an attempt to create intelligent infrastructure that is emotional and corresponds to the local context." It may not be entirely efficient, but it's definitely poetic. Besides, some of us may swim to work one day–why shouldn't we bounce?