Biking in trousers is simple. Biking in shorts is no problem. Biking in slim-fitting skirts? It ain't easy. I'm only slightly ashamed to admit that I've sported spandex under a nice dress that was hiked up to my waist in order to make my way around San Francisco on two wheels, and let me tell ya–it's not a good look. Ann DeOtte Kaufman became an avid urban rider after a move from Michigan to Seattle but wasn't impressed with the chasm between the function and fashion of cycle-specific clothing. So last year she founded Iva Jean–named after her crafty grandmother–to make good-looking garments for women who already love to bike, and those who haven't yet hopped on but just might.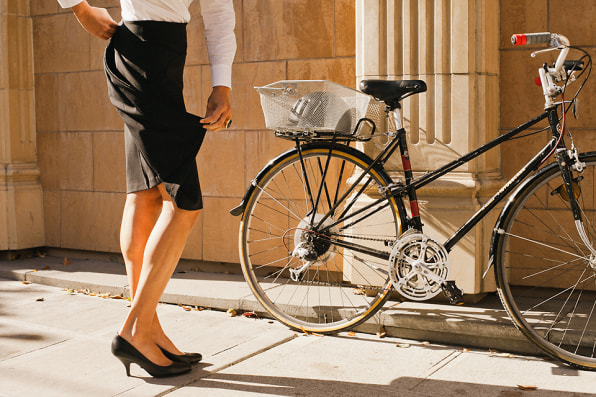 After kicking off the collection with a truly lovely, so-much-better-than-a-plastic-poncho-from-Walgreen's Rain Cape, she's turned to Kickstarter to fund 2013's spring line, featuring a tailored Daily Blouse, Two-way Reflective Vest, and the showstopping Reveal Skirt.
"I had assumed that creating a final design would be pretty straightforward–a pencil skirt with a zipper in the back," Kaufman tells Co.Design. "Easy." Perhaps more than any of the other items, which all go through similarly extensive in-studio and real-world trials with two designers and seamstresses, the engineering on this one took some serious persistence to perfect. Preliminary fit measurements determined the length, where it would hit on the waist, the side entrance, and darting at the back, but it also became clear that the planned seven-inch pleat just didn't allow for enough movement, with far too much stress on the seam. An iterative series of alterations followed, until finally the "reveal" was extended from top to bottom with an added zipper and angled pleat to keep the lines sleek and clean. "I couldn't keep the smile off my face during testing," Kaufman says. "We had nailed it."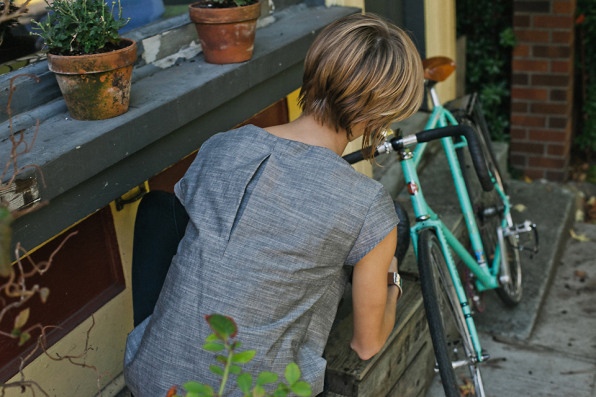 The Kickstarter campaign is already a success, and Kaufman's got even bigger plans for the future of Iva Jean. "I'm dying to tackle the perfect cycling pant," she says. "Or better yet, the perfect city pant. I'd love something that looks and feels like an everyday trouser, but acts like a performance pant. Can you imagine–water-resistant, breathable, moisture-wicking, four-way stretch, higher rise, abrasion resistant?! That's next, and I can hardly wait." Lots of ladies out there, myself included, are no doubt equally excited.