This weekend, Dallas unveiled the latest architectural ring on its well-jeweled fingers: the Perot Museum of Nature and Science, a 180,000-square-foot science center designed by L.A. architect Thom Mayne and his firm, Morphosis. The Perot–yes, that Perot–has been under way for almost 10 years, and remarkably, has come in under budget and ahead of schedule.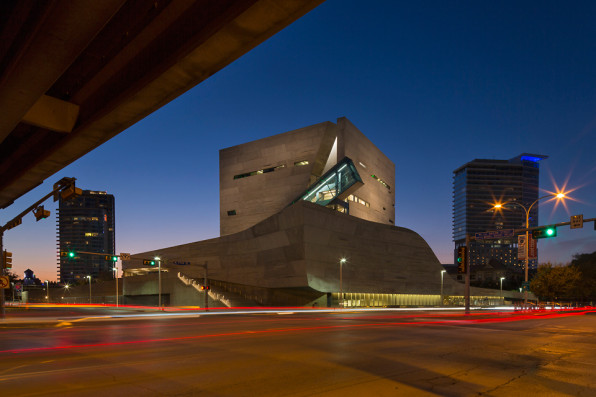 Mayne is the third Pritzker Prize winner to build a major building in the neighborhood over the past five years. Just a few blocks away sit a Norman Foster opera house, a REX/OMA theater, and an SOM-designed performing arts hall. Victory Park, where the Perot is sited, is the contribution of one of Dallas' many philanthropists, the titular Ross, and is also home to the Maverick's arena and W Hotel. But the Perot distinguishes itself by being the singular science-oriented building in the complex; a "living museum inspired by nature and science," in the words of Mayne.
Frankly, the museum's list of features make me, a science center-goer of the 1990s, feel super old. There's a digital cheetah kids can race against, an EEG machine that lets kids attempt to guide ping-pong balls with their brain waves, an "earthquake floor," a garden full of instruments and glowing chartreuse frogs, and so on. There are also some timeless fixtures, like a full Alamosaurus skeleton. One odd note, as Mother Jones and the New York Times note, is the exhibit on fracking and its machinery.
As a piece of architecture, Mayne's building is consistent with his past work, eschewing conventional symmetry and proportion for a surgical treatment of public space. The plan is dominated by a 170-foot-tall concrete box, which contains most of the exhibit space. A set of escalators slice directly through the box, protruding in oblique glass shards from the upper levels. A curving armature extends into the landscape, creating a grotto condition with water features and covered outdoor space. "It is a fundamentally public building," Mayne explains, "a building that opens up, belongs to and activates the city. It is a place of exchange. It contains knowledge, preserves information and transmits ideas; ultimately, the public is as integral to the museum as the museum is to the city."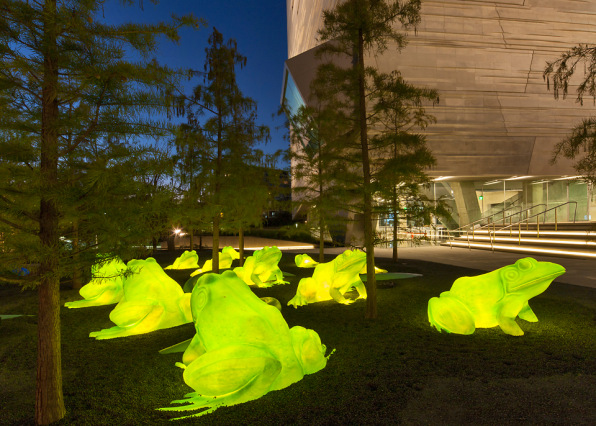 The facade treatment, whether you like the swooping formalism or not, is fascinating up close: nearly 700 precast panels are molded to give the impression of fabric being drawn taught over the skeleton underneath. Endearingly, Mayne's own excitement about education shows through. Inside, certain stretches of wall have been left untouched; kids can examine pipes and other service cores. "Rejecting the notion of museum architecture as neutral background for exhibits, the new building itself is an active tool for science education," he says.
The response to the building has been overwhelmingly positive, but there's also a little irony to the fanfare over the Perot. Only a few blocks away, the city is embroiled in a controversy over one of its first truly remarkable pieces of architecture, Renzo Piano's Nasher Sculpture Center. After a massive reflective condo building was erected next door, the Nasher's gardens have been ruined, James Turrell requested that his skyspace be removed, and Piano's elegant shading system is no longer fully functional.
Wonderfully, Dallas is full of people who love to give to arts and education. Unfortunately, after only a decade of use, it's being boxed in with bad (or nonexistent) planning. Only two weeks ago, the Wall Street Journal published a compelling post on the "Dickensian" controversy, saying "the end is nowhere in sight." Check that out here.