Which American university churns out the most Nobel Prize winners and laureates? Why have the ages of physics winners consistently increased over the past 60 years? And what city has birthed the most winners? (New York!)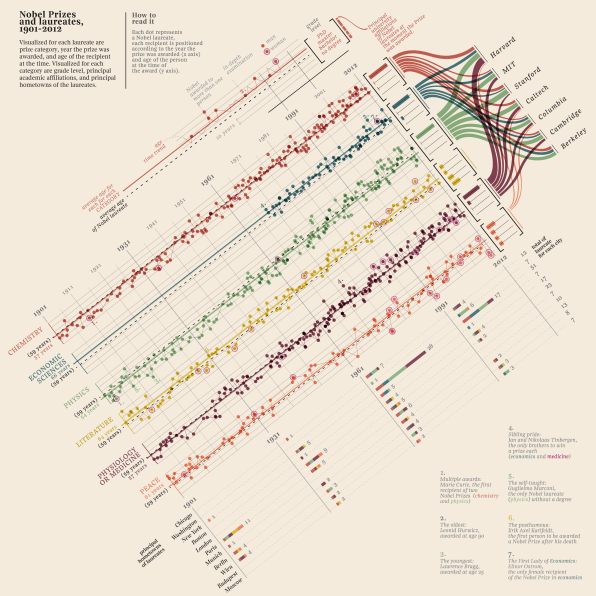 This visualization from Giorgia Lupi and her design studio, Accurat, examines the 555 Nobel Prizes and 893 Nobel Laureates created since the awards began, in 1901. The visualization is part of an ongoing series for La Lettura, the cultural supplement of Milanese newspaper Corriere della Sera. Lupi and her partners have created 11 visual stories for the paper so far, on topics ranging from J.K Rowling's career to the collapse of the 21 biggest empires in history.
It's a dense graphic–but she's done a lovely job making it legible, if you take the time to read the key. There's plenty to be gleaned from the visuals, but a few major points of interest: Every category is top-heavy with master's and Ph.D. degrees except literature, where the inverse is true (most of the winners have no degrees). Starting in the 1960s, people born in New York have had the prize on lock, winning far more often than any other city in the world. For Paris, it's been the opposite–a steady downward trend.
Accurat, which is based in Milan, was founded by four friends with widely disparate degrees (architecture, economics, design, and sociology). A bit like the New York Times Graphics Desk has described itself, Accurat brings together a wide range of skill sets to examine the changing face of journalism. "Information Design is playing an increasingly critical role in everyday journalism," Lupi writes in an essay (PDF) on the studio's work for La Lettura. "Info-spatial journalism is not data-visualization in the pure sense. We are not just providing insight into numbers but into social issues or other qualitative aspects as well."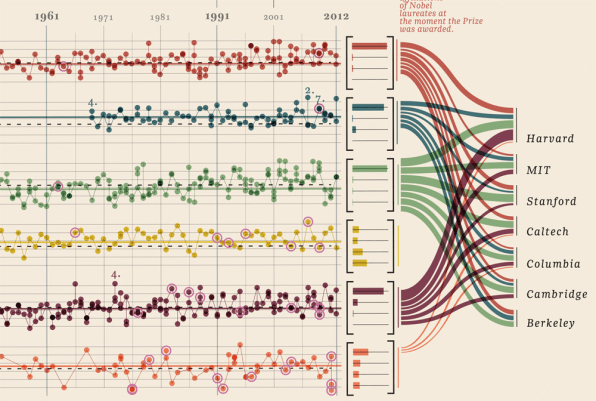 She concludes with a fantastic quote from Alberto Cairo, the Spanish information designer:
A journalist can borrow tools and techniques from literature, and be inspired by great fiction writing, but she will never allow her stories to become literature. That notion applies to visualization, which is, above all, a functional art. The role of an information architect is to anticipate this process and generate order before people's brains try to do it on their own.
The rest of Accurat's visualizations for La Lettura are here.
[H/t Brain Pickings.]