When Jessamyn Rodriguez founded Hot Bread Kitchen in 2007, the nonprofit was a grand experiment, run out of her downtown Brooklyn home. The goal was to provide low-income immigrant women–many of whom are the primary earner in their families–with the paid training and work they need to support their households. It worked. In the five years since, 27 women from 12 countries have been trained in commercial baking and ESL classes, and the company has flowered, opening a retail location in East Harlem. In 2012, Rodriguez launched HBK Incubates, a program to help her "pay it forward" to other startup food businesses hoping to scale up in the marketplace while remaining sustainable.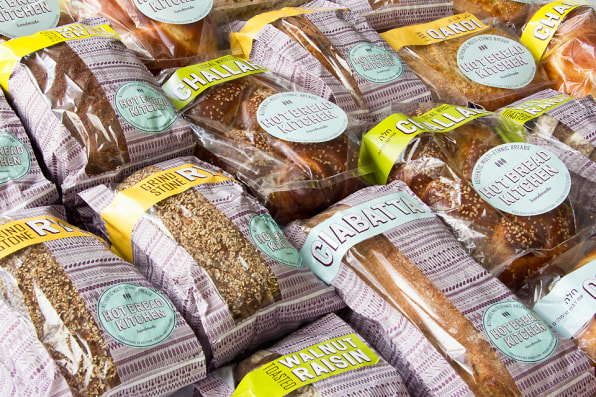 HBK is growing exponentially, but as of last year, had no brand or logo to unite its various activities. Pentagram partner Abbott Miller connected with Rodriguez last year, after a client of Miller's–who is also a supporter of HBK–suggested that a cohesive brand identity might give the blossoming company better visibility in the marketplace. Miller took the project on pro bono, and got to work developing an identity. "Over the past year, our whole team worked very closely with Pentagram to come up with the designs and implementations of our new branding," explains Rodriguez. For Miller, the process of meeting and working with the HBK team in their East Harlem space offered an immediate direction for the design. "Visiting the bakery and having meetings fueled by these delicious breads made it vivid for all of us," he says.
It seemed important that the new identity preserve HBK's unique mission; a brand that would celebrate the craft and traditions behind each of the company's products. Miller and his team developed a series of patterns based on ingredients and tools used in breadmaking: rye, semolina, sea salt, honey, and whisks, to name a few (there are 28 in all). Each HBK bread comes wrapped in a unique pattern made up of its own ingredients. "Although its a bit corny to say so, the packaging is meant to feel melting-pot-American," says Miller, "in that there are elements of American vernaculars in the type, but then the influence of all of these other ingredients."
Today, HBK sells 15 traditional breads–from Persian Nan-E Barbari to Moroccan M'smen–in locations like Dean & DeLuca, Whole Foods, and more than 30 greenmarkets. But the core goal of the nonprofit remains the same: providing women with a (rare) chance to get paid to gain new skills, while preserving the culinary traditions that in many cases, hail from the employees' countries of origin. "What makes the project special to me is the way an ancient tradition becomes the fulcrum for a multi-faceted program," says Miller. "A word that Jessamyn used early on was 'breaducation,' the notion that baking for sustenance is also a form of education for participants, for the public, and that there is within that a social component, a jobs component, and even a language component."
Working for a culinary mastermind has its perks. "Me and my team got a lovely package of breads with the new branding the day before Thanksgiving," Miller adds, "which was especially nice timing." Check out Hot Bread Kitchen here.