The 1969 marriage of John Lennon and Yoko Ono is one of the more obsessed-over unions in history: the infamous "Oh, hi." The last-minute Gibraltar wedding. The honeymoon bed-in.
Some details about the wedding have largely escaped the public eye, though. For example, Yoko presented John with a collection of her illustrations as a wedding gift. The book was called Fashions for Men and detailed dozens of designs for men's clothing, draw with a wide-tipped felt pen. Inspired in Ono's words by Lennon's "sexy bod," the pieces ranged from a loincloth embroidered with eyes and a nose, to a pair of pants with a lion's tale. Her hand-written directions for the lion pants read "just pants, wear perfume on top. Also, dog lead optional and gloves."
The book was meant simply as a gift, but after 43 years, Fashions for Men is about to hit the streets. Working with New York fashion darlings Opening Ceremony, Ono has actualized the designs for a limited-edition capsule collection. "I was inspired to create Fashions for Men, amazed at how my man was looking so great," explains Ono. "I felt it was a pity if we could not make clothes emphasizing his very sexy bod. So, I made this whole series with love for his hot bod, and gave it to him as a wedding present."
Opening Ceremony founder Humberto Leon has realized Ono's designs almost verbatim from the 43-year-old sketches. "This group of drawings for John Lennon in 1969 were remarkable inspirations for a men's fashion line," he says. "As huge, longtime fans of Yoko's art, we have great respect for her artistic vision, aesthetics, and intellect." One pair of pants has knee pads reading "stop" on one knee and "go" on the other. There's a pair of knee-high boots with an open toe, and a boot that comes with an embedded incense holder (each $750). Most of the garments are actually very wearable, as long as you're not still in high school (I'm not sure the butt hoody would fly with more stringent principals). One standout piece is a plexiglass board that hangs around the neck, with two call buzzers at nipple-height ($400). The message etched on the bottom of the board? "Ring for your mommy piece."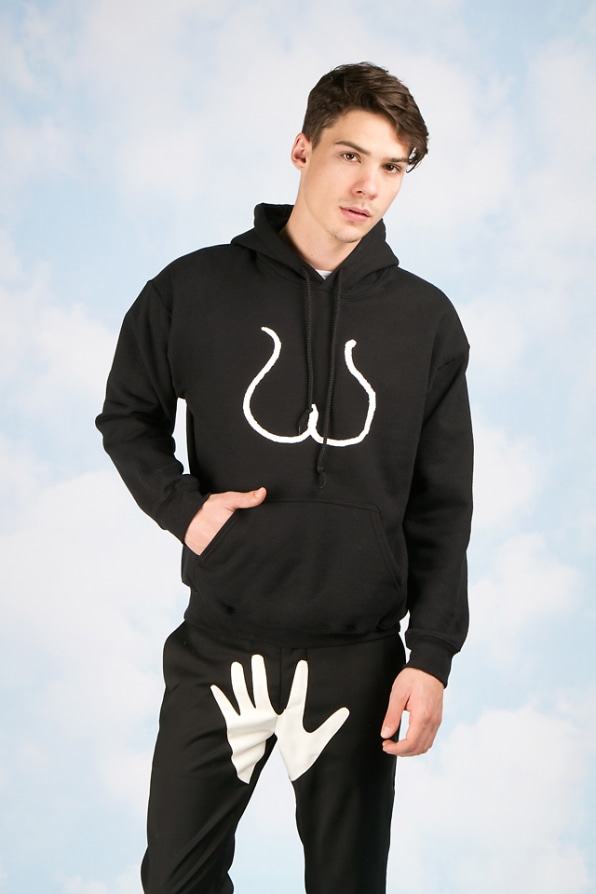 The whole collection flagrantly objectifies men's bodies, reversing the overall trend with a measure of humor. Ono has always been unapologetically confident and self-possessed (the day she and Lennon met, she stopped him from participating in her performance art and told him that she'd never heard of the Beatles). How did he react when he saw the drawings on the couple's wedding day? "You can IMAGINE how he went wild and fell in love with me even more!" Ono writes. "My sophisticated, tasteful, and sensible friends across the world all scream – We love it!"
The pieces are super limited edition–only 52 of each design exist–so head over to Opening Ceremony to buy (or gawk).