Billions and billions served. Could you imagine building the chair to support endless waves of McDonald's customers? The sheer materials challenge involved would be daunting. And then, let's say the franchise throws you a curveball: Everything needs to be built to survive outdoors, too.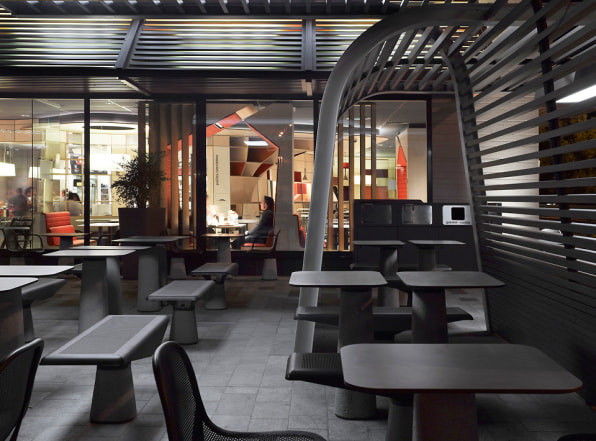 That was the task given to acclaimed modern furniture designer Patrick Norguet, in association with Alias, by McDonald's France. The burger baron is planning to outfit its terraces nationwide with new chairs, tables, and optional shelters. And because it's McDonald's, there's always the additional challenge of scale.
"The collection needed to be low-cost, robust, 'sensual,' and quick to develop," Norguet tells Co.Design. "Very quickly, I had this intuition that the use of metal and pressed steel would be the most intelligent materials for this project."
What he decided on was a collection of 28 components made of steel, concrete, and Corian. The seats, tables, lamps, benches, planters, and trash cans can be arranged modularly and also assembled modularly, allowing for turnkey parts to be swapped out rather than replacing entire components as pieces wear.
"[I thought] the stamped metal associated with the concrete would create a very interesting aesthetic to the border of urban furniture, and also respond to the problem of recycling of materials," Norguet explains. "[There's] a contrast between the mass of concrete foot and lightweight seat that's suspended on the base. This connection between the foot and the seat allows easy mounting of the assembly and a possible replacement if necessary."
The visual result is a collection of ergonomic furniture that is at once monumental, durable, and delicate. The seats look every bit as comfortable as any high-end desk chair, yet their concrete base conveys a permanence (and even a timelessness) to the structure, implying, in the most tacit sense, that some simple patio at a fast-food restaurant always has been and always will be.
McDonald's France will be installing this furniture at a handful of locations across the country. Given that the company has quite different architectural approaches for Europe than the U.S., it's unlikely we'll see them here.