Before the meticulous sketches, canvas prototypes, collaboration with southern California manufacturers, and extensive personal trial periods, Otaat's Albert Chu begins brainstorming new designs with two essential queries: "What if?" and "Why not?" For example: "What if we made a pouch that had 100 pockets for über-organization? Or would that just defeat the purpose?" And: "What if you could have a play area rug that could cinch up all your nephew's toys, like a grab-'n'-go?" Oftentimes, it's just an exercise to get the creative juices flowing at the Los Angeles-based label, but this approach to limited-edition leather goods has also resulted in some unexpected additions to Otaat's growing collection.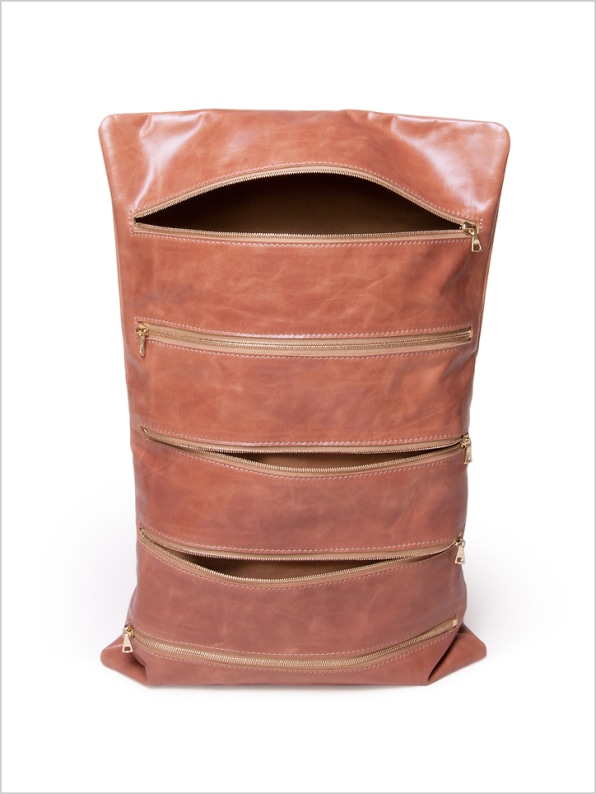 Take the latest debut–a leather Party Hat, complete with grosgrain ribbon ties–and follow its roundabout line of questioning. "What if we made all of our pieces as a collection of miniatures? What if we did something appropriate for cakes? What if it were a birthday cake? Wait!!! What if we made a birthday HAT?" Essential? Nope. Delightful? Absolutely. And whether you prefer to celebrate milestones at da club or on da couch, between birthdays, NYEs, and any impromptu festivities that come along, the fancy headgear would probably get more play than some of the more practical stuff sitting around your closet.
Other more pragmatic items also display a similar twist on the familiar. The Y-shaped Ninja Pouch can be used to tote anything from iPad to make-up essentials, while the unique construction of the Topstitch Holders–they open with a slit in the fold, as opposed to along the seam–gives them a bit of an edge. "Counter-intuitive logics like these are what really get us excited," Chu says.
This lighthearted spirit would no doubt please Chu's younger self. At age eight, he discovered the joy of toting his toys around in a simple pouch as opposed to a plastic box, and that tactile pleasure made a big impact, along with a wise lesson from his folks. "When I was a kid, I felt like there were so many things I wanted to do–play, homework, run around, play–and sometimes I would get overwhelmed with all the options because I wanted to do everything at once. So my parents would say to me, 'Do one thing at a time, and it'll be better!' And I did, and it was," he explains.
"Soon enough," Chu continues, "it became my personal mantra, something that I use with everything Otaat does. We believe very strongly in focusing on one thing and developing it meticulously. It allows for tangents and random thought paths, but it always comes back to that one thing and making sure it hits all the marks–of seriousness, of rigor, of detail, and, of course, of fun!"