Are the Rolling Stones still a band, or are they something more? Cultural phenomenon? Living monument? A few musicians united by nothing but mutual hatred of "Satisfaction" and "Gimme Shelter"? When you've grown as big as the Stones, our standard metrics no longer suffice (but they can still try to make sense of it all).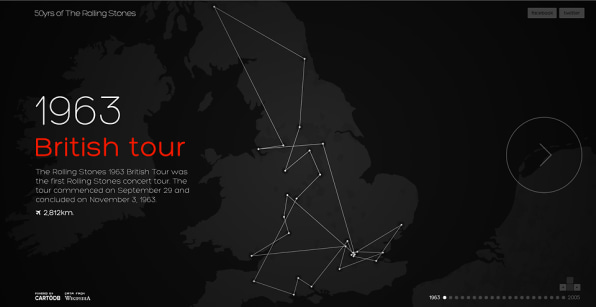 To show off their latest version release, CartoDB, a data viz mapping toolset, mapped every Rolling Stones tour from 1963 to 2007. That's more than 1,300 concerts around the world, or roughly 600,000 miles of flights and bus rides (which actually averages out to less than 60 miles of travel per concert–pretty efficient planning, if you think about it).
Scanning through each tour, you really gain a grounding perspective of the five-decade, global phenomenon. Despite their insane popularity since the mid '60s, their concert tours weren't global in scope for almost 30 years. They'd continent hop, but 1994 was (arguably) their first super-global tour, and it broke the records for all tours that had preceded it, by any band ever. No doubt, the Stones' popularity and staying power trended alongside globalization. They figured out that sequestered European or the U.S. tours just didn't make as much sense as they used to.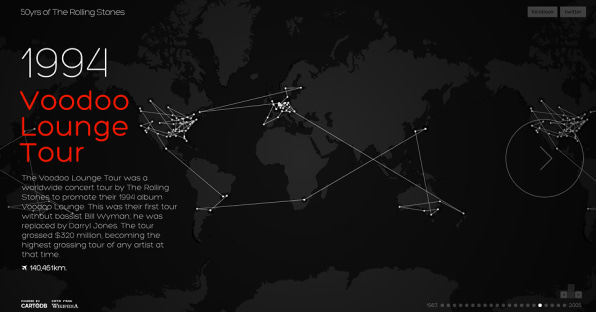 The charts do appear to have at least one serious error. The first U.S. tour for the Rolling Stones actually occurred in 1964, not 1965, before the band had any hits in the States. Bassist Bill Wyman called the tour "a disaster," a poor showing no doubt punctuated by being mocked on Dean Martin's variety show by the man himself.
That fateful U.S. tour did have an upside, though. Spending two days in a study, possibly inspired after meeting idol Muddy Waters, the Stones recorded what would become their first U.K. No. 1: "It's All Over Now." In reality, it had just begun.
[Hat tip: FlowingData]