Welcome to the new museum: an organization that eschews acquisitions and permanent collections for a smaller building and leaner operation, focusing on in-situ installations and community programming.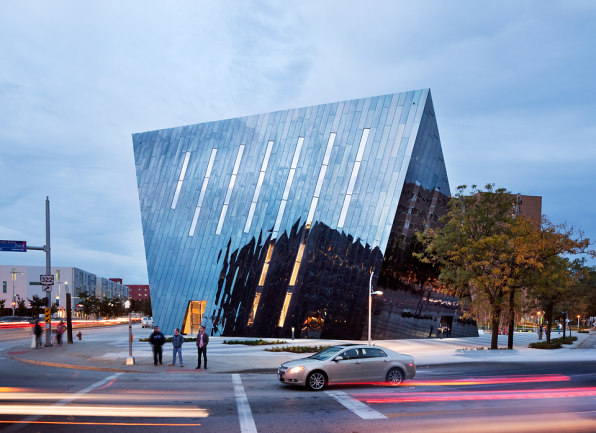 That's the mission behind the Cleveland Museum of Contemporary Art, which opened its first permanent building in October. The MoCA is a non-collecting museum, which means it has no permanent collection, which in turn means that it needs less space and money to operate. The museum's new 34,000-square-foot building, designed by Iran-born, London-based architect Farshid Moussavi, cost only $27 million. Still, the fundraising process was incredibly difficult, and museum officials were careful not to break ground until they had the money to finish the building.
What does MoCA do without a permanent collection? It invites artists to exhibit new work or to make it specifically for the museum. In the museum's inaugural show, German artist Katharina Grosse blasted the three-story atrium with spray paint, dripping and running down the brand-new walls. Because MoCA needs very little storage space, almost all of its four floors can host exhibitions–even a fire stairwell that has been turned into an audio art gallery. "Flexibility is key," explain the architects. "[MoCA] is designed to serve as a catalyst for creativity and growth in a cosmopolitan neighborhood."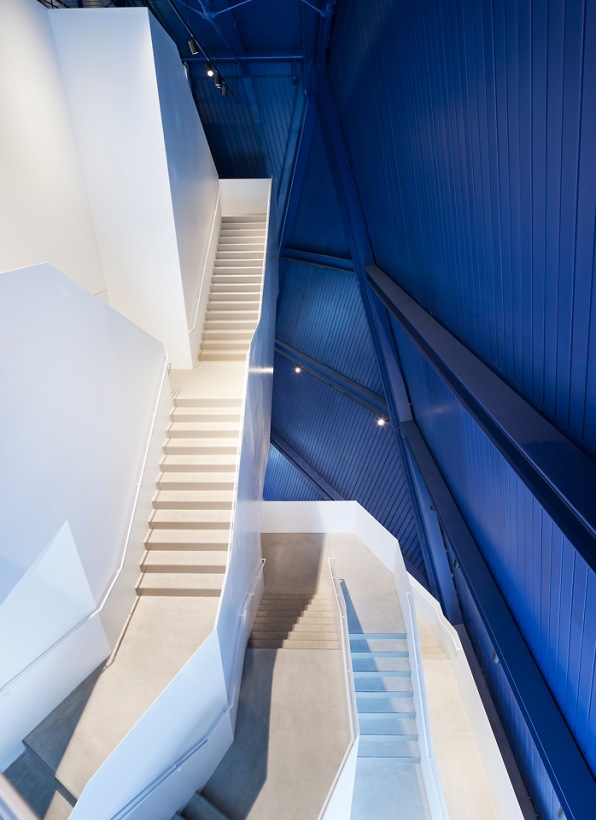 The building begins as a six-sided polygon but twists as it rises to form a square at the fourth floor, where most of the conventional gallery spaces sit. "I'm not a fan of galleries with irregular configurations because I think contemporary art is irregular enough," MoCA director Jill Snyder explains to ArtInfo. Moussavi treats the facade particularly well: Outside, it's clad in a mirrored stainless steel that drapes the building's skeleton. On the inside, the steel panels are painted an Yves Klein blue.
Cleveland has one of the highest foreclosure rates in the country, and the city has been plagued by poverty even before the economic downturn (in 2004, the U.S. Census Bureau named it the poorest big city in America). The MoCA represents a shot at the kind of urban revitalization-by-the-arts that some of its neighbors have seen–Zaha Hadid's Contemporary Arts Center Cincinnati, for example. If the reports of record visitors over the past month are to be believed, it's working.