Yelp will find me a good pizza place. Foursquare will show me who I know that eats there. Meetup might inform me if there's a cooking class nearby within the week. But what if I just want to meet some people today for lunch?
MOB (Moments Outside the Box) is an iPhone app that wants to bring group spontaneity into our lives. With a few taps, anyone can create an event, placed right on a shared city map. And with a few more taps, anyone can join it.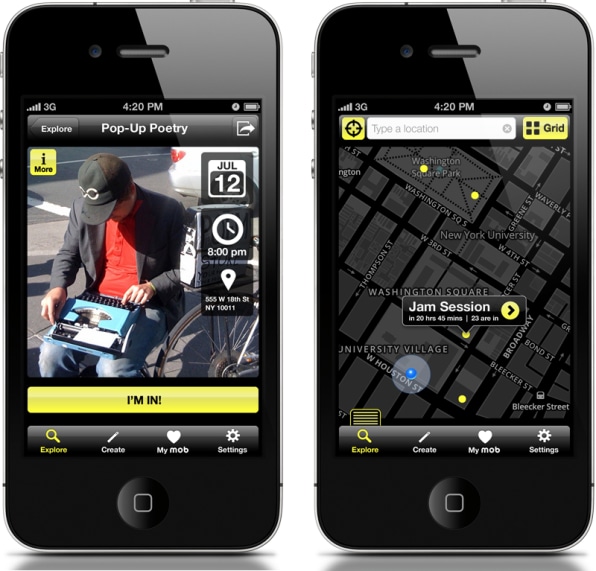 "Through this app, we hope to encourage spontaneity, group creativity, play, and purposeful community building–making us more self-reliant as consumers, by recognizing activities and spaces we can access without monetary exchange," Founder Patricia Adler tells Co.Design. "It is this desire that sets MOB apart from other products."
Adler isn't overstating this monetary distinction. Most of our discovery apps are tied very directly to spending money somewhere (a bar or a restaurant). MOB's secondary purpose, aside from socializing the digital world in real space, is rediscovering the utility of our free public spaces. Despite the slick, black map and easily taggable GPS coordinates, MOB has a park district ideal at its core. And that's important. Facebook offers us a free means to socialize with friends. If we're ever going to start socializing in person again, if the cloud really has the power to get us to meet on the ground, the cost barrier needs to be nonexistent.
As for the app's inverted, white on black aesthetics, they were inspired by an X-ray (and the idea of seeing the inner workings of a city). For those who'd rather not hunt out mobs on a map, there's a thumbnail-based list view. Unfortunately, from what I could tell, there's no easy way to view the exact location of an event found in the list view on the actual map. (At minimum, there's not an intuitive one, at least.)
However, the real problem MOB's facing is far more critical. Despite 1,500 downloads of its beta, the app doesn't appear to have many (or really any) users. I was able to spot a small handful of events in all of New York. Chicago was wholly empty, as was San Francisco.
The MOB team is in early discussions with potential investors. And no doubt, a bit of VC could help the product grow. At minimum, cash could seed a few users to get the mobs rolling.