In the years following World War II, as Christianity steadily declined and cities rebuilt themselves, religious architecture underwent a transformation. Young architects found an opportunity to express spirituality in a modern voice–or, as Le Corbusier said of Ronchamp, "to create a place of silence, of prayer, of peace, and of eternal joy." Of course, the clergy weren't always happy with the radical forms that resulted. Many of these churches were reviled by congregations for years. Yet they're some of the most remarkable and well-preserved pieces of Modernism from the 1960s and '70s.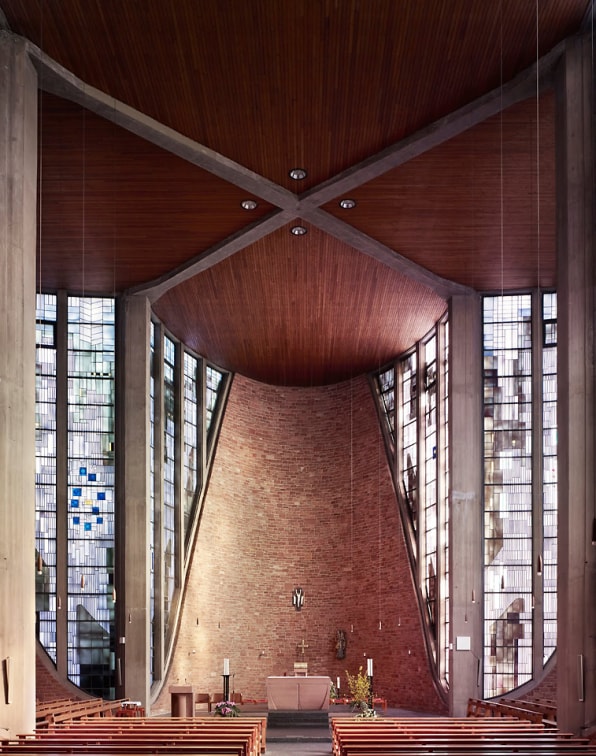 French photographer Fabrice Fouillet traveled across Europe photographing some of the most important examples of postwar churches, creating a catalogue of the spaces called Corpus Christi. "I've chosen to capture this break with centuries of architectural tradition," he explains. "Scattered throughout Europe, they reveal a new conception of the sacred, a representation of the divine imbued with modernity."
Each of Fouillet's photos is carefully calibrated, with the alter centered at the bottom of the frame and the apse fully articulated at the very top. It's an interesting effect that lends itself to comparison: the incredible concrete expressivity of Gottfried Böhn's St Ludwig in Saarlouis, Germany versus the rationality of Mario Botta's Santo Volto in Turin. The rainbow-colored windows and red diamond ceiling of Nicholas Kasiz' St. Remy, versus the raw, unfinished concrete arches of André Remondet's St. Thérèse in Metz.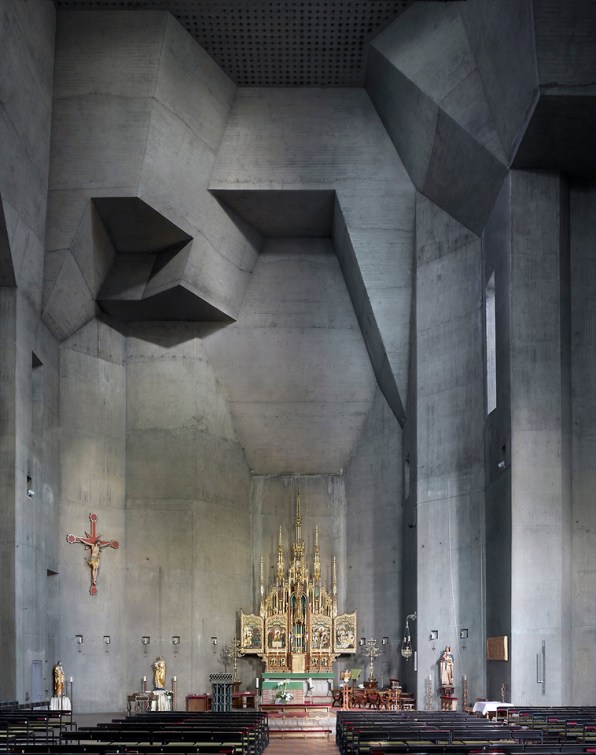 One image–and architect–articulates the stories behind this era of architecture. Guillaume Gillet, the architect of the remarkable Brutalist cathedral, Notre Dame de Royan, was imprisoned by the Germans only seven years before he started work on the church. While being held in a camp, he worked with other prisoners to create the famed French Chapel, a tiny room underneath the roof of their barracks decorated with exquisite religious murals. In 1953, he was hired to rebuild the cathedral in Royan and designed a building that spoke to the brutality of the experience. He was still devout, and maintained that the 80-foot bell tower was inspired by the great Gothic cathedral that once stood in the town. The war hadn't diminished his faith–but it freed him to articulate it in entirely new ways.
Check out all of Fouillet's images above, or head over to his website for more information.