My favorite moment in Mad Men is episode 7 of season 1. Roger Sterling makes a pass at Don Draper's wife during a dinner party. The next day, Don accepts Roger's apology–or so it seems. The episode devolves into a measure of manhood over lunch, a brute force martini-and-oyster binge that ends with the duo forced to take the stairs, drunk and late, 23 flights up to a meeting. Roger vomits all over. Don smirks, barely breaking a sweat. And the universe is balanced again.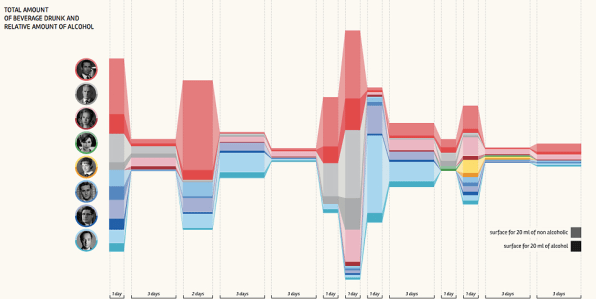 How many drinks did Don and Roger consume that episode? Ten apiece. Precisely ten apiece. I know that because of this fantastic, unattributed series of visualizations (update: they're by Arianna Belotti, Sofia Girelli, Daniele Lupatini, Gianluca Malimpensa, Mattia Parietti and Aurelie Pellat) developed during a workshop held by Santiago Ortiz. For the main piece, each character is a color on an axle of boozing. Don is the dominant force in pink, but it's fun to see narratives play out in alcoholic consumption alone. The oyster scene is a great example–the biggest peak of the season–but the hints of yellow, Peggy Olson, that develop later in the season are equally telling. The humble secretary's creativity is discovered, and she slowly becomes one of the guys.
The images also examine other alcoholic data. One chart breaks down what types of drinks were consumed each episode (as you'd expect, whiskey wins, but drinks like mai tais make an appearance), while another image averages the volume of each consumed drink with its relative strength. This concept is a bit harder to follow, but seems to imply that Pete, ever crafty, sneaks by with water now and again. Another chart breaks from booze altogether and looks instead at tobacco. Needless to say, these guys smoke as much as they drink. (And isn't it going to suck when they inevitably give Don lung cancer. Ugh.)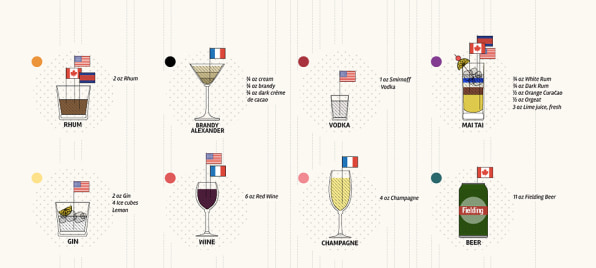 The final visualization in the series is perhaps the most ambitious. It's a waveform of characters that intersect when they drank together. And these points of intersection represent various locations (the office, a bar, or someone's house). If you can glean a cohesive narrative from the scribbles, you're a better man than me. But if you take joy in staring mindlessly at pretty pictures, possibly whilst extraordinarily drunk on the job, then welcome to the club, friend.