Japanese architecture firm Torafu Architects has come up with an ingenious way to improve upon the mall information booth, one of the least effective advertising ploys around: turn it into a playground.
Waku Waku Station (literally, "excitement" station) is a tiny mall-bound booth that aims to drum up interest in Tokyo's redeveloped waterfront. Commissioned by a real estate company selling residential units near Tokyo Bay, the 40-square-foot folly is designed to give kids something to do while their parents peruse the offerings. If you're cynical, you might say it's designed to get the parents into the booth in the first place.
"The design takes inspiration from the yachts, boats, houses, and buildings found in the bay scenery," the architects tell Co.Design. Taking its cues from boat design, it's got dozens of nooks and crannies for kids to explore, plus giant building blocks that can be pushed around the space. Twee pastels and plenty of tinkertoy boards finish off the space.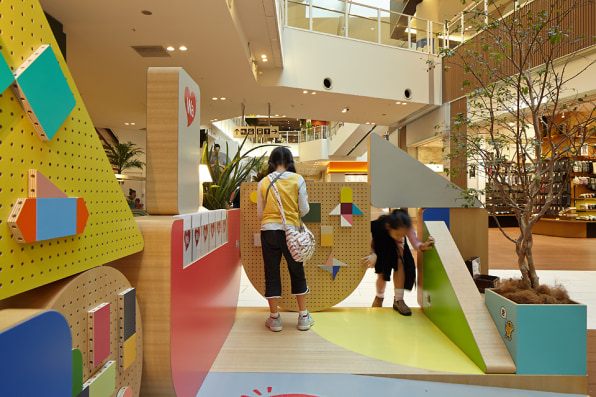 Over the next few months, Waku Waku Station will be the meeting point for a series of "treasure hunts," designed to get families out and about in the area. "The booth is like a big playground where families can have a fun time together," explain Torafu, "or like an exciting secret base at the starting point of a treasure hunt." The project is part of a six-month campaign to get people in Tokyo interested in the emerging neighborhood, which is being redeveloped incredibly quickly. LaLaport Toyosu, a shopping and entertainment center that sits directly on Tokyo Bay, is anchoring the new development.
Hopefully, other architects will follow Torafu's lead, and we'll see more banal spaces (the DMV, perhaps?) take on double lives as playgrounds in the future. Check out Waku Waku at LaLaport Toyosu if you're in Tokyo.