When Samuel Bernier, an industrial designer, moved into his new apartment, his next project was staring him in the face in the form of a broken Ikea lamp. The previous owner, he says, had left the thing right in the middle of the living room–an object that looked "like a fishing rod holding a big paper cloud"–though the shade had clearly seen better days, ripped to shreds and held together only by copious amounts of Scotch tape.
Bernier searched for a replacement, but all the lampshades he could find were either too expensive or, in his words, "extremely ugly." So he decided to design his own and make it with his 3-D printer. That first lamp shade turned out so well, he designed and printed 11 more.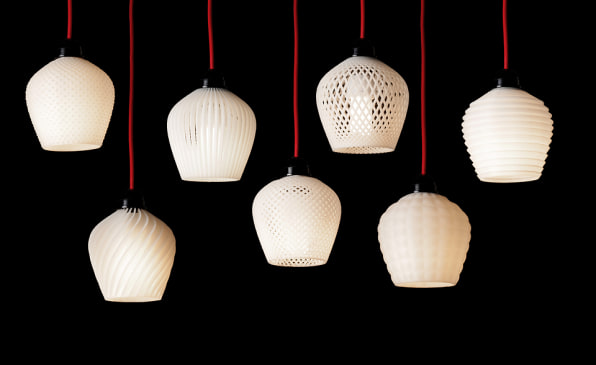 Bernier calls the collection Dentelle, and all dozen pieces are variations on a theme. Some are solid the whole way around, others are dotted with holes. One shade is ribbed widthwise, like a cartoon beehive, another is ribbed vertically, like the outside of a seashell. But all of the shades are the same bell shape–a form that was influenced by a few factors.
For one thing, Bernier says, when objects like this have angles less than 30 degrees, the resulting surface can end up dirty and "stringy" when printed. Adhering to that angle, however, made for a design that can sit attractively on a desk or other flat surface without any support, in addition to being hung from the ceiling. That dual functionality, Bernier admits, was "a nice surprise."
But the designer also liked the shape because it was one that would be difficult to achieve affordably through other means of production. "An industrial mold for my lamps would be quite complex," he points out. The size of the shades was dictated a bit more directly by the tools Bernier had to work with; he printed the first shades on his Up! Pp3dp, which has a 5-by-5-by-5-inch build capacity, so he couldn't exactly match the tattered original inch for inch.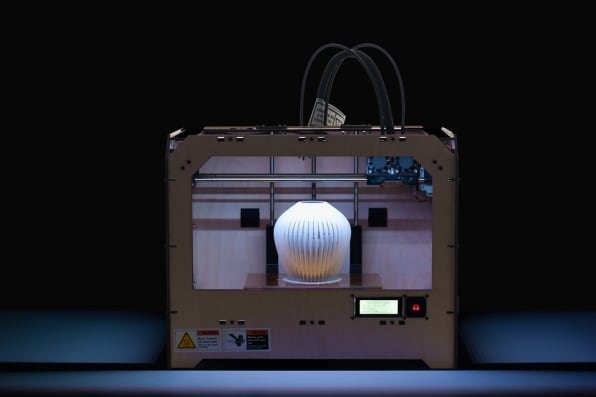 Bernier says his favorites of the set–the ones that are actually getting hang time in his new place–are the two black shades, whose permeable design allow for heat to dissipate quickly. Some of the others, he says, still need a bit of refining in this regard. The bulbous, tortoise shell-style shade may look nice, but it's decidedly incompatible with hot, incandescent bulbs.
Dentelle isn't Bernier's first time exploring 3-D printing as a domestic solution; the Montreal native's last initiative, Project RE_, transformed old Mason jars and soup cans into piggy banks, juicers, and birdhouses with the help of 3-D printed add-ons. But this project showcases the technology's ability not only to create objects that are functional but beautiful, too. Self-manufacturing something that you can shove in a kitchen drawer is one thing; printing a piece of plastic that you're excited to hang in the middle of your living room is a different type of achievement altogether.