With the advent of the Internet–and the myriad sub-genres and viewing options that come with it–reading Playboy is a bit of an anachronism. But at one time, the magazine constituted something of a cultural battleground, leaving first- and second-wave feminists divided. Yet many former bunnies (and Playboy Club employees) remain proud of their work for the company, maintaining a vibrant online community that plans reunions and events ("Long live the Cottontail Queens!").
Photographer Robyn Twomey became fascinated by the legacy of former Bunnies when she attended one of their annual reunions, in Las Vegas, in 2004. She invited some of the attendees to sit for portraits, shooting them head-on without airbrushing or post-production. "They're complex characters," the young photographer says, "who are proud and empowered by their beauty and sexuality, at the same time stricken by the fleeting nature of it."
The resulting series is a powerful study of how we project ourselves as we age. Some of Twomey's subjects strike sexy poses, facsimiles of the '60s and '70s, in the doorways of their suburban homes. Others are stoic and thoughtful. All of them look proud. "The body language suggests even more about who these women are: strong, beautiful, fragile, provocative, and everything in between," Twomey writes.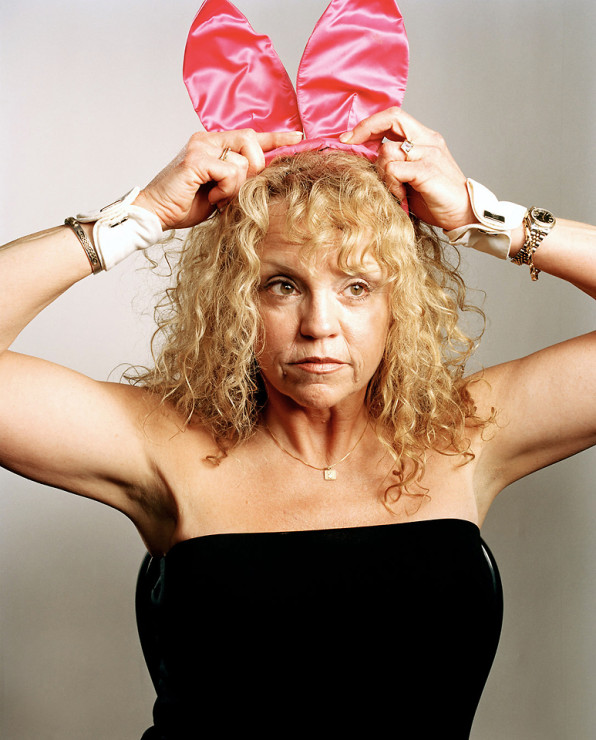 If you look closely, you'll see that Gloria Steinem even sat for the series. Steinem took a job as a Bunny in the early '60s, on assignment for a story about the Playboy empire. She would later write a famous take-down of the experience ("A woman reading Playboy feels a little like a Jew reading a Nazi manual"), to which an embarrassed Hugh Hefner would respond, "I think militant feminists want to be men."
See the full series on Twomey's website.
[H/t Flavorwire]