Back in 2009, 12 high-profile somaliers crept into the cold cellars of the 201-year-old champagne makers Perrier-Jouët to taste the world's oldest champagne. The bottle, corked in 1825, tasted like "history in a bottle," a puzzling description that leaves a lot to the imagination.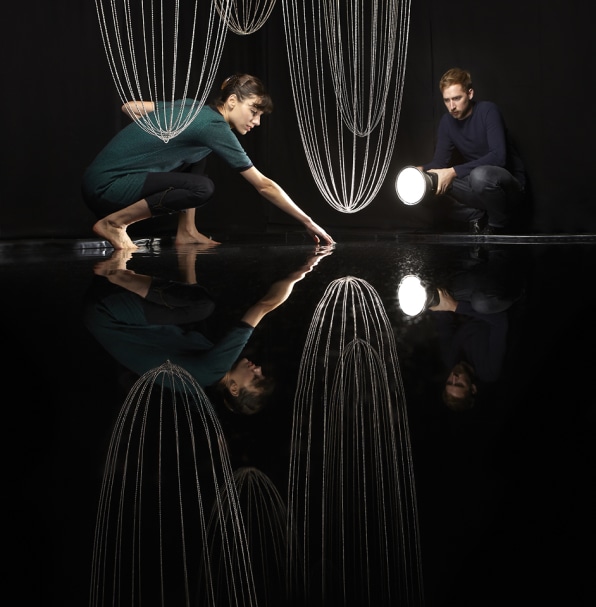 Three years later, two young British designers named Sarah van Gameren and Tim Simpson (a.k.a. Glithero) ventured down into the same chilly cellars, intent on finding inspiration for an Art Nouveau-inspired piece Perrier-Jouët had commissioned for Art Miami. They found it, in the graceful curves of the stone ceilings and the cryptlike stillness of the space. "There was this special moment when we descended from the house into the cellars," Simpson explains. "There is a really unique humid and timeless atmosphere, which we somehow wanted to bottle and bring up. Puddles made beautiful reflections, and dewdrops caught in spider webs also really contributed to the sense of timelessness we wanted to capture."
In a turn of free association, the duo realized that the atmospheric cellars reminded them of Antoni Gaudí's famous string models, which the Catalan architect used to design the soaring curves of buildings like the Sagrada Familia. In a time before digital modelling, Gaudí would hang chains or weighted strings from two points on his studio ceiling to find the perfect catenary arch, then sketch his ideas based on the results. It's those long, graceful curves that associated Gaudí with the Art Nouveau movement in Spain.
To re-create Gaudí's methods, Glithero strung thousands of steel ball bearings on strong string, suspending them from a framework to form several catenary arches. Below the model, the duo installed a pool of water, reflecting the arches as Gaudí once did. The resulting installation, Lost Time, is still, calm, and humid–much like the Perrier-Jouët cellars.
"We aim to evoke the sense of being so deeply lost in reflection that you question which version of orientation is the truth," the designers explain. Which I'm guessing is roughly the same thing the tasters said when they cracked open the 1825 vintage.
More information on Lost Time is here.