Planes are standard in the aviation industry. It's how you outfit these planes–from design to service–that makes a fleet an airline.
So in 2009, TAM Airlines approached design studio Priestmangoode with a particular challenge. The Brazilian airline wanted to establish itself as an international carrier every bit as prestigious as its competitors. The redesign included seats, galleys, cabin architecture, and even the UI of the video consoles. But in the realm of international travel, the first-class cabin is of paramount importance. It's the ultimate litmus test of a carrier's glitz (as well as a vital means to increase the margins of an otherwise uniform ticket).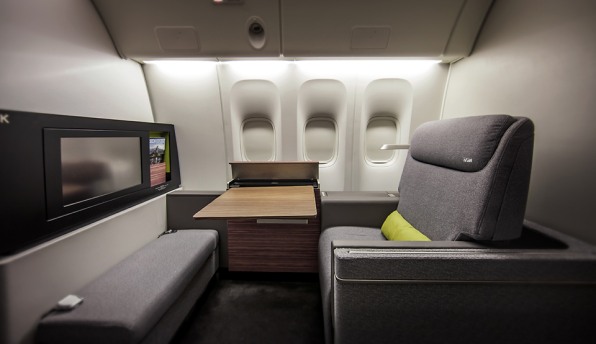 The cabin's theme was Home Away From Home. "The design moves away from hard finishes to create a softer, luxurious cabin more in keeping with high-end contemporary interior design," Priestmangoode designer/director Luke Hawes tells us. Inspiration was struck in Brazil's contemporary interiors, home trade shows, and the studio's work in major international hotels like Marriott, IHG, and Accor. That's probably not so surprising–my first reaction to the space was, this looks like a very nice hotel lobby. But while soft materials are a standard in homes and hotels alike, they're of particular concern on an airplane.
"If the smallest button on a seat is broken, the aircraft can't take off, which hugely inconveniences passengers, of course, but is a significant loss for the airline," Hawes explains. "So striking the right balance between beautiful, soft materials, and ones that can withstand a bit of wear was important."
If there's one fairly ingenious use of all this plush material, it's that the two central seats come with their own couch, allowing travel companions to sit face-to-face during meals as if sharing a table at a café. How could there possibly be room for this domestic extravagance? The couch takes the space normally dedicated to an ottoman, doing double duty for elevating one's feet or creating a more social atmosphere.
Currently, TAM's new first-class cabin is featured on flights between São Paulo and Europe. To experience the world's first couch in the sky, it'll cost you around $12,000–now how much did you pay for your couch again?