Could the Internet of Things arrive on our roadways sooner than we imagined?
If Transportation Secretary Ray LaHood has his way, it just might. On Friday, the U.S. National Highway Traffic Safety Administration (NHTSA) announced a proposal that would require all automakers to install ERDs–Electronic Recording Devices–in their vehicles by 2014. The requirement would let the NHTSA's team of researchers dip into a massive well of data concerning how and why car crashes happen.
But these proposed requirements are only a hint of what the NHTSA is planning. LaHood and his team are convinced that ubiquitous computing could make us hugely safer drivers. More specifically, they think it could reduce crashes by over 80%, by enabling our cars to interface with each other over a Wi-Fi network.
This fall, the NHTSA launched a $25 million pilot program to test the concept, outfitting 3,000 cars in Ann Arbor, Michigan, with technology that allows each vehicle to send and receive messages from nearby cars. Each car in the system is outfitted with a sensor that sends around 10 messages per second to cars within several hundred feet. If another car comes too close, or is driving erratically, the system warns the volunteer drivers with a ping, buzz, or vibration, depending on the systems, which were designed by teams at Ford, General Motors, Honda, Hyundai-Kia, Mercedes-Benz, Nissan, Toyota, and Volkswagen. According to early surveys, more than 90% of the study's participants liked the system and thought it helped them avoid hazards–which is essential, since implementing a federal mandate would require a whole lot of support.
"It's fitting that we are launching the Safety Pilot here in Michigan," said Secretary LaHood at a press conference kicking off the program. "Over a century ago, Henry Ford revolutionized the auto industry with a good idea and a commitment to excellence." In addition to testing V2V (vehicle-to-vehicle) communication, the study will also look at V2I, or vehicle-to-infrastructure communication. 178 of the participating cars, trucks, and buses are outfitted with a system that interfaces with infrastructure like traffic lights and sensors embedded in the pavement. Transit designers and urban planners could eventually glean valuable information about traffic from such a network.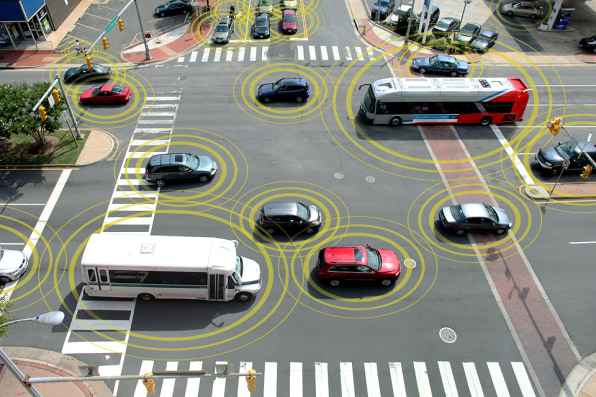 As some have pointed out, 3,000 cars may not offer enough data points to be conclusive about the effectiveness of the technology. And of course, similar research is being done by Google and other companies. But it's exciting to imagine that legislation based on V2V communication could eventually emerge. The study's first phase will wrap in January, so we'll know more about the findings in early 2013.