Before Google Earth was around to let us flit virtually across the globe, confirmation of our planet's diverse bird's-eye beauty came from another source: NASA satellite imagery. It was a specific sub-genre of web content that would reliably go viral before "going viral" was a thing–stunning views of pockmarked mountain ranges, strangely geometric crop formations, and tendrils of land stretching out into vividly blue bodies of water.
By now, we've become a bit more familiar with the fact that our pale blue dot actually looks anything but from a few hundred miles above the surface, but it's never a bad time to revisit those images and remind yourself it's not all parking lots out there. Thankfully, NASA's got just the thing for the job: Earth as Art, a free new iPad app that collects some of their most stunning satellite imagery from the last decade and change.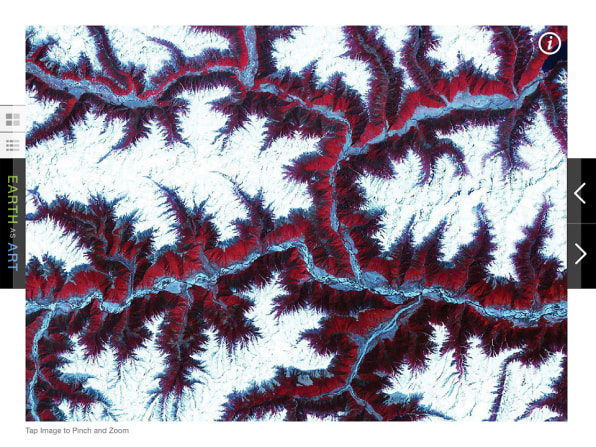 The 75 images comprising the app, also available as a free, downloadable e-book, cover all corners of the globe, from the craggy outlines of the Susitna Glacier in Alaska to the Bogda Mountains in China, the latter of which showcase "purple mountain majesty" in a very literal sense. Alas, in the introduction to the collection, NASA notes that the image sensors on these satellite cams can "measure light outside the visible range, so the images show more than what is visible to the naked eye." The images, we are reminded, "are intended for viewing enjoyment rather than scientific interpretation."
Ah, but with a planet this lovely, who really cares. Sometimes, the images just offer a fantastic skyborne perspective on the types of geological features we can tell are impressive even from down here–deserts and volcanoes and mountain ranges and the rest. In other instances, they reveal gorgeous patterns of sand or clouds, aesthetic wonders we'd never be able to perceive from terra firma. And in other cases, you can't really tell what the hell you're looking at–some could just as easily be views through a microscope if you didn't know any better. Thankfully, you do; the app lets you summon up an overlay with a bit of relevant information on each photograph.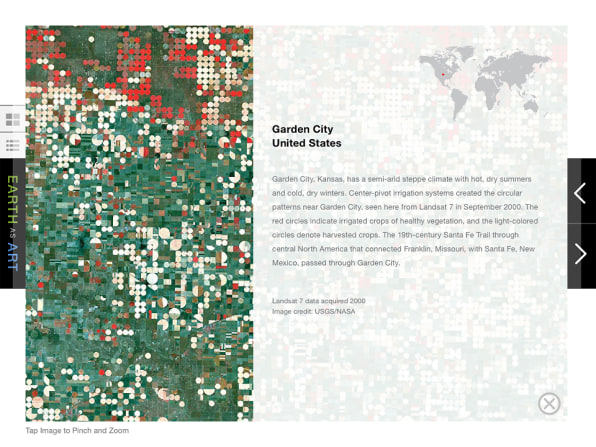 For those who have been reveling in NASA's imagery over the years as the organization's been posting it online, there might be some familiar shots here. Think of it as a greatest-hits collection of the Terra, the Landsat 5 and Landsat 7, the EO-1, and Aqua satellites.
But no matter how many times you see them, it's always a sort of exhilarating shock to the system to be reminded that Earth has been doing its own, incidentally gorgeous thing for billions of years, whether or not we've cared to notice.
Grab the app for free from the App Store, or download the e-book directly from NASA.