There is something supremely satisfying about wearing something made with your own two hands, but sewing even relatively simple apparel can be tough for newbies. Steven Wheeler works as a menswear designer at the North Face, where he's become well familiar with fusible technologies used for the company's quality sportswear. "The advantage to using these adhesives is that we can make seams that are much lower profile and don't chafe against the skin like sewn seams, which is important to athletes who prefer tightly fitted technical apparel," he tells Co.Design.
Though these clothes are factory-manufactured in massive quantities, Wheeler saw the potential to construct casual, stylish pieces using similar methods in a completely different context, and on a way smaller scale. "I recognized that these adhesives could be adapted for use in a way that lets the end-user bond things together," he says. He launched Threadlab as a labor of love to put how-to fashion directly in the hands of men who have a desire to DIY but lack the skills or tools; the kit comes with a choice of component parts for a modern men's shirt: long or short sleeved; a selection of collars, cuffs, and pockets; and dye.
Selecting the right adhesive was essential—something with a high-enough melting point that it wouldn't come apart in hot water but low enough that it could be activated with a run-of-the-mill iron. He found one that fit the bill, where a bit of heat makes it tacky enough to align and position the pieces together, then all it takes is an extra firm push with a hot iron for a solid ten to 15 seconds to permanently secure the bond.
Fabric swatches were sourced from as many mills as Wheeler could manage, and he selected a starch-free cotton shirting for its positive reaction with the at-home dyes. He also did extensive legwork to find a local factory to sew the component parts together. "We found it really important to visit in person to make sure the space was safe and clean for the workers," he says. "Transparency is absolutely essential in any partnership."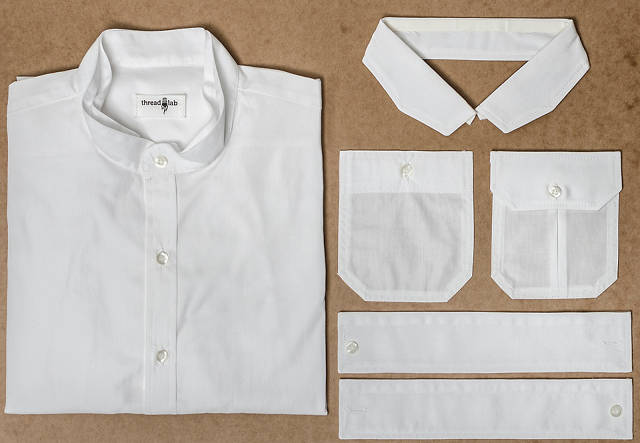 From there, R&D trials became a game of garment tug-of-war. "Testing was done by bonding two panels of our fabric together along an edge and then literally having two of us grab and pull the free ends in opposite directions," Wheeler says. "We did this both before and after repeated washings to make sure the adhesive could last. Perhaps not the most scientific way of measuring tensile strength, but it was a lot of fun and it worked!"
Wheeler believes there's huge potential for the concept that extends beyond these button-downs, too. "I think ThreadLab is going to open up a whole new market for guys to make clothes," he says. "I've positioned it so that men would recognize these kits as something that is more or less 'built' as opposed to sewn."