Google ruined everything. Microsoft gave out free soft drinks, but Google let employees eat gourmet food for free. How can you possibly differentiate mealtime in Silicon Valley with that act to follow?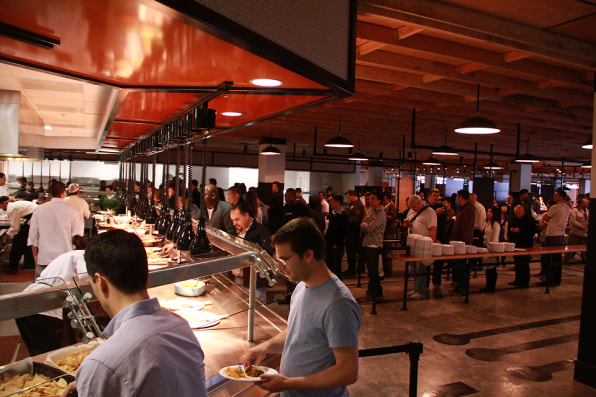 Facebook aimed for cool. They hired Roman & Williams–the ultra-hip powerhouse firm behind landmark projects like the Ace Hotel New York–to create their Epic Cafe. In reality, the firm is mostly the vision of husband-and-wife design team Robin Standefer and Stephen Alesch, who are largely credited with the trend of alluring, faux-nostalgic interiors, pieced together through an alchemy of heirloom furniture, found objects, warm woods, grommets, and occasionally, even flannel. Their look is what the New York Times calls the "Benjamin Button school of design," or a nostalgia for a time that never actually existed. Indeed, if interiors had an Instagram filter, it'd be Roman & Williams.
The meeting between Facebook and Roman & Williams was happenstance. Everett Katigbak and Ben Barry, who head Facebook's Analog Research Lab, actually bumped into Standefer and Alesch in the lobby of the Ace Hotel. What eventually resulted was a collaboration on Facebook's Epic Cafe, a cafeteria that sits somewhere between a schoolhouse lunch line and a half-finished construction site. The spa has all the carefully curated objects of a Roman & Williams design mixed with the "don't you dare finish painting those walls!" mentality of Facebook's corporate culture.
"[That culture] indirectly starts with the product, not that we leave it unfinished, but we leave the product open to iteration," Facebook's Everett Katigbak tells me. "It's a continual work in progress."
Much of Katigbak's job is ingraining Facebook's culture into their buildings, designing interior spaces to ensure going to work at Facebook doesn't feel like going to work anywhere else. So when Facebook opened its Menlo Park campus, Katigbak didn't want one big design firm painting the grounds with a single stroke. Instead, he was inspired by Facebook's roots, the tiny company that sprouted in Palo Alto, snagging a patchwork of buildings downtown to accommodate a quickly growing workforce.
"It was interesting to have to run to meetings across town, navigate through the city," Katigbak reminisces. "It had this feeling of energy we really liked and connected with." The Menlo Park campus itself is largely modeled to "feel like a city." With the building serving as one blank canvas, employees were free (even encouraged) to claim their own spaces, creating a mini urban environment inside a corporate office.
And Epic Cafe had to feel like a social hotspot in this city–a place you wanted to go, meet, eat, and collaborate with friends in the company that you may not see in your normal office area.
"On the general employee side, we wanted them to have something they felt proud of, a place 'I' get to eat as a destination, but flexible in a Facebook way," Katigbak explains. "They could add to it without changing the overall vibe of it."
.
The resulting space is like your childhood lunchroom, reformulated for adults. It's largely Roman & Williams, filled with postindustrial furniture (some discovered, some crafted), found print art (magazine clippings), exposed light bulbs, and plenty of rivets. But whereas Roman & Williams's brand of alchemy generally finishes these components, Facebook's culture demands they stay raw. It's no pseudo-swank hotel lobby; the cafeteria is built on a concrete floor and topped with exposed rafters, like a construction site waiting for the laminate and drywall guys to show up already. Since it's Facebook, you could probably carve your name in a chair, but since it's Roman & Williams, destroying the cultural artefact would be sacrilege.
I asked Facebook if they'd used any tricks of social hacking in the space, much like Google had found eight-person tables were the perfect number to prevent cliques yet maintain conversations. "We don't get that granular, to find the optimal metrics and measurements," Katigbak says. But he does see the value of communal seating in empowering "chance encounters," and a few smaller tables have clearly been set up to allow two people to run a more focused discussion over lunch.
Indeed, the word that comes up again and again with Katigbak isn't "synergy" or "networking." And it certainly isn't Google's creed, which would probably be "optimization." It's simply "cool." For however we may try to classify Roman & Williams, identifying the unifying threads or jealously criticizing its brand of quasi-retro chic, most of us agree, in this place and time, that it does feel "cool." And Facebook's cafeteria is pretty cool, too–for reasons a bit beyond mere association.