My father-in-law makes the best shelves. They're unfinished plywood, connected by a few dozen L-brackets. They're strong, durable, and have a timeless earnestness that I really dig.
But Henry Wilson is a designer who takes this raw construction aesthetic to the next level. His pieces–tables, stools, and chairs–exist in a most fascinating place between home carpentry and high-end design. In fact, many are shipped to you to assemble yourself, with no instructions at all. The idea is that there's really only one possible way to connect the pieces.
"The unifying theme might be that the pieces resemble a sort of half-cooked idea. I like that my work can sometimes straddle resolved and prototype," Wilson tells Co.Design. "I feel like this can make things feel more trustworthy, there is room for them to grow and change. I use the repurposing of objects as a way of fast-tracking an idea into a realized form. Sometimes these ideas stop there, other times they may evolve to become parts of other things."
With rapid prototyping at its core, Wilson's work is seemingly improvised, as if a carpenter is riffing with odds and ends left over from a larger construction project. It's a perceived aesthetic that, in a sense, stems directly from reality. A few wood slats, held together by discarded paint tin clamps, form barrel stools. Flexible beech slats replace upholstery in chairs.
And at the heart of much of Wilson's work is his A-joint. Its trademarked claim to fame is the joint's ability to accept various standard cuts of timber, rather than requiring the costly, custom cuts that drive the furniture industry.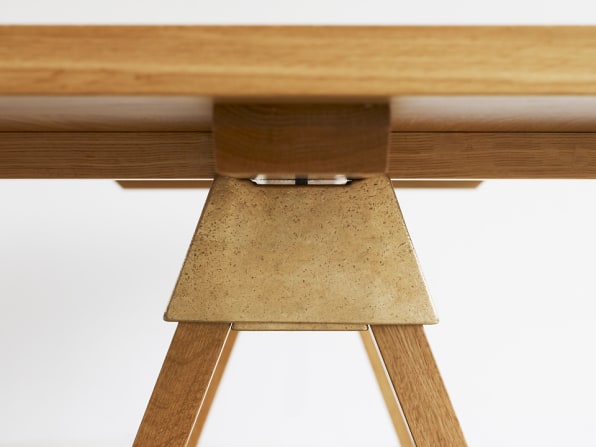 "I am attracted to industrial solutions, as these are generally resolved with little regard to aesthetics and maximum attention to longevity, material suitability, and user interaction," Wilson tells me. The A-joint is just this sort of utilitarian tool, a simple chunk of aluminum, but it's not some mass-produced object. Rather, it's actually sand-casted by Wilson himself.
Maybe that's what makes Wilson's work so intriguing. The forms may often stem from improvisation, but that improvisation is often grounded in a meticulously crafted custom-industrial ruleset. It's an oxymoron to the eyes built from a convergence of sensibilities. And, yes, it's all for sale.