It's a question that comes up fairly often in interviews with talented engineers: How did you get interested in electronics? The answer usually involves a relative who was an engineer or a specialized school program. There just isn't much of an infrastructure for getting young kids (or inexperienced adults) excited about learning to build electronics. Now that's changing, thanks to things like GoldieBlox, a toy that aims to introduce girls to engineering, or Roominate, a dollhouse that lets girls experiment with circuit boards.
Those toys are great, despite being pretty gender-specific. But Aya Bdeir, a Canadian-Lebanese engineer and former MIT MediaLabber, had something more flexible in mind when she founded LittleBits. Bdeir's one-year-old company makes "Bits," or electronic modules, which connect to each other with color-coded magnets. When you order a kit online, the shimmering purple box that arrives will look more like a box of chocolates than circuitry. That's part of the fun: dissolving the aura of inaccessibility that surrounds engineering. Inside, neon-colored Bits range from USB power sources to solar panels to sound sensors.
Bdeir compares the Bits to concrete masonry units (e.g., cinder blocks) which revolutionized the construction industry, and transistors which did the same for electronics in the 20th century. "The transistor was only for experts," she says. "I personally don't accept this, that the building block of our time is reserved for experts. At the Media Lab, I started exploring how to put the power of engineering in the hands of artists and designers." LittleBits, the company she founded after leaving MIT, is like Lego for engineers. In the time since, LittleBits has blossomed into a full-fledged startup, receiving nearly $4 million in Series A funding in July.
The sets are designed to get people making right away. Anything. A light-up Halloween costume, say, or a remote control car, or a blender. In place of step-by-step guides or goals, the company has an online community of LittleBits owners who upload videos of their creations and troubleshoot what they're working on. The bits themselves can be bought in sets, but you can also buy individual bits to suit your interests, and suggest new bits for the company's ever-growing offerings. Since it's an open-source project, you could also just download the circuit diagrams from GitHub and make the bits yourself (although they probably wouldn't look as cute).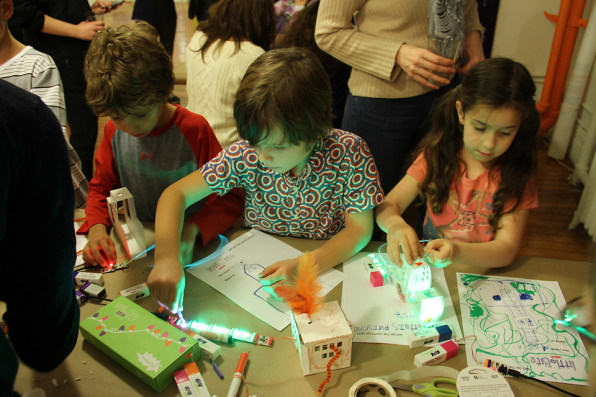 As a company, LittleBits has done a great job of communicating a message that focuses on creativity and community rather than buying more stuff. After Hurricane Sandy, the company held a workshop on the Lower East Side where kids could come play with a LittleBit-wired model of Manhattan and learn how the storm knocked out the city's power stations. A holiday-themed starter kit was accompanied by an online competition to submit cool seasonal inventions. The goal is to build a DIY engineering culture, and Bdeir sees the success of MakerBot and Instructables as evidence that momentum is growing. "Something is in the air," she writes. "We hope you've braced yourself for the Open Hardware revolution."
Bit packages start at $29. Check them out here.