Windows Solitaire was (in)famously designed by an intern, Wes Cherry. Microsoft bundled the game in Windows 3.0 and every Windows since (up to Windows 8). By mere association with the ubiquitous OS, with hundreds of millions of people having played it, Solitaire is unquestionably the most popular video game of all time. Cherry never received a single royalty check, but he eventually landed a real job with the company.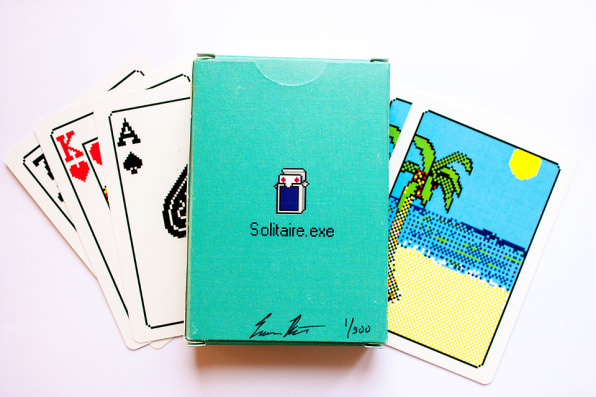 Now, designer Evan Roth (who you may know from his Angry Birds art) has immortalized Solitaire as a charming-as-heck limited edition deck. Solitaire.exe re-creates the virtual cards (originally designed by Susan Kare, who fashioned the original Mac icons) right down to the pixel, featuring the beach scene that became synonymous with countless lost hours of productivity. They were even printed by Bicycle to go on sale at Cooper-Hewitt's store.
I'm not sure I'd quite call the statement postmodern, but there is something fascinating about these mass-produced graphics–seen billions of times on PCs around the world–syphoned down to be printed in an elite, limited-batch run of 500 (each box is signed). There's certainly a satisfying Ouroboros effect, too, as the computer game simulates reality, which in turn just creates a game to simulate the computer. While I can't academically pin down what any of it means, I do know that I like the tingly paradox the deck activates in my brain.
Unfortunately, this limited run sold out very quickly, and now we're left eyeing the perfect retro stocking stuffer, knowing that–as painful as this pun will be–it's just not in the cards for us.