Poverty in America, as Nicholas Kristof recently pointed out in the New York Times, doesn't get much attention from big-name donors, who tend to be drawn to causes abroad. Yet the issue persists, along with questions about the best way to channel government funding to the neediest communities.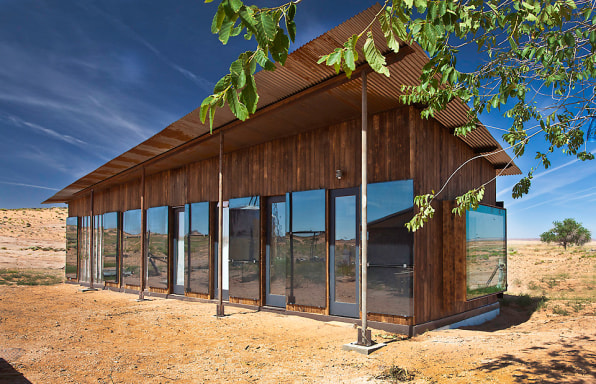 DesignBuildBLUFF, a nonprofit in the tiny town of Bluff, Utah, is taking things one house at a time. The group invites architecture students to design and build homes for needy families in the Navajo Nation, a few miles south of Bluff. "[Native Americans] face some of the worst housing conditions in our country," explain DDB's founders. "Over 40% live in overcrowded or dilapidated housing."
Founded by architect Hank Louis in 2000, DDB is endowed with a three-year minimum grant from the Department of Housing and Urban Development. It's allowed hundreds of students from University of Colorado and University of Utah to spend a semester in Bluff, working with a family to design and build their home. The goal of DDB is twofold: help the community's neediest cases, and help young architects develop empathy and passion for pro bono work. Hence the group's tagline: "Compassion can be found in a CAD file."
Last summer, a group of eight students from University of Colorado finished the Nakai House, the first DDB home to be completed, lights and all, by the end of a single semester. The single-room house, which cost just $30,000 and took 80 days to build, was designed for Lorraine Nakai, a Navajo woman with a passion for collecting books and memorabilia.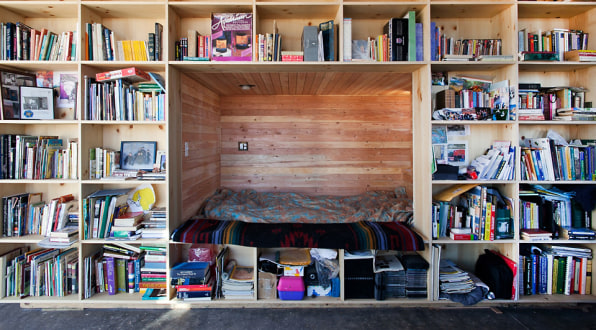 "When we met her, she had her collections piled and dispersed within her old house. She expressed a strong desire to be able to showcase her eclectic collections in her new home. They were truly a part of who she was," the students explain on Dezeen. They designed a long, narrow space walled with 45 feet of bookshelves for displaying her knick-nacks, hiding essential services like kitchen space and a bathroom behind the wall. A cozy bed space is nestled into the wooden shelves, and a free-standing fireplace hangs in the middle of the room. A sloping roof of corrugated metal sheds heavy snowfall, and recycled glass windows let in eastern light.
This week, the next DDB team is finishing up the fall semester's home in Bluff. "This year, it was a family of six, a single mom, and five kids," says Rick Sommerfield, the director of UC's Design Build program. "We started by rebuilding the kids' bus stop and then moved on to the house." DDB is currently expanding to schools nearby, and this summer will bring a new crop of students and a new project to the area. You can follow their progress on the program's blog here.
[H/t Dezeen]