Uber is one of those landmark ideas for a future that should probably already exist. Open an app on your phone, tap a few buttons, and have a taxi-car service sent to your location, wherever, whenever. So the 1.0 app hit with a ton of buzz, but the startup quickly began to feel like a real company. It had to battle city regulations, and it was sued. But maybe even worse, it had to answer to a customer base with a frequent, overarching complaint: Uber was expensive–sometimes surprisingly expensive.
Uber 2.0 just hit. And like any 2.0 release, it's the service's chance to prove its long-term utility, to cement itself, not as a startup but as a vital company in the long term. The app saw a complete makeover, a shift from glossy black screens to cleaner typefaces and white space–what lead designer Shalin Amin openly calls its midcentury modern approach to "maximize enjoyment, minimize interaction, and formulate honesty."
Amin was brought on after the 1.0 release, to prep the company for a 2.0 experience powered in part by a more design-flexible, natively running app.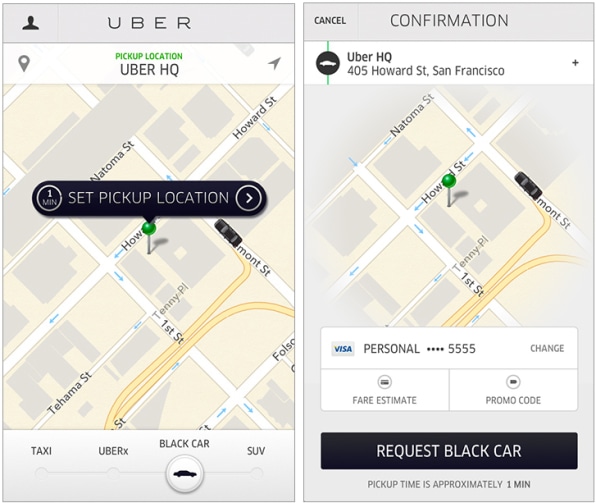 "When I came on board, I regarded Uber as one of those great services that really didn't have great design thinking involved," Amin says. "It's an engineering titan, but one thing missing from the old app was an overall mission of design."
Amin rewrote Dieter Rams's famous principles of design with an invigorating, Uber-centric scope. And he focused on "pain points" of the Uber experience. Amongst the largest was sticker shock. You see, Uber doesn't operate with the same flat-rate pricing structure that most of us are accustomed to. At the heart of its model is "surge pricing," a controversial, variable fare multiplier that, during busy times especially, can generate astronomical bills. (Uber's position is that if you want a car on demand, then surge is simply the price of dispatching cars during high demand.)
The problem with the 1.0 app was that the effects of surge pricing weren't clear–a by-product of the inflexible web-based app architecture (and no doubt, someone's personal denial inside the company that triple-digit cabfare would be an uber kick in the pants). In 2.0, thanks to native code and goal-oriented design, estimated fares and surge pricing are impossible to miss. And buttons abound to calculate costs and dive deeper into the pricing structure.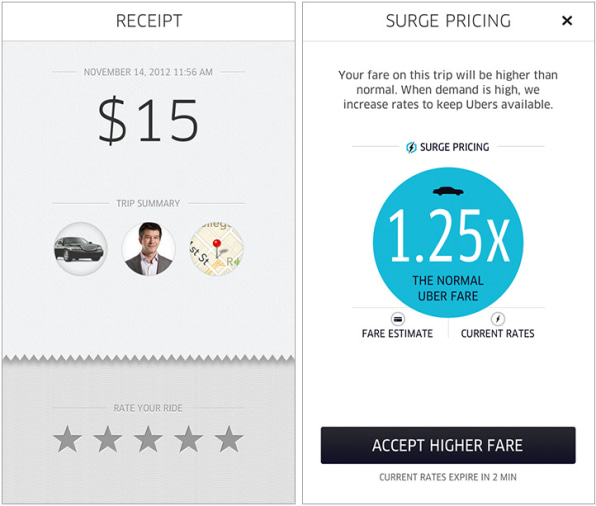 "We're not trying to hide anything," Amin says. "We want to be super transparent about what a trip costs. At the end of the day, disappointing customers doesn't really serve us."
Even with the new layout, Amin sees communicating pricing–and explaining this whole surge concept to customers–as one of their greatest ongoing challenges. So for New Year's Eve, as many people reach for Uber, judgement impaired during some of the year's highest surge rates, the company will be introducing a brand-new screen for first-time riders, giving them a heads-up about this whole surge multiplier thing. It's the first of possibly a few failsafes to be built into the clearer 2.0 system.
"Any time we surge above a certain number, we think we have to have another notification saying that this is going to be really expensive," Amin says. "We're trying everything possible to focus on communication through design."
Download Uber 2.0 here (iOS). Android version not yet released.