Over a century ago, the Netherlands Ministry of War built a series of batteries and flooded zones around the country's capital city, a kind of final fortification before reaching the urban hub. Now, as a UNESCO World Heritage Site, the remaining bunkers in this 135-kilometer-round Stelling van Amsterdam ("Defense Line of Amsterdam") are in the process of being preserved and restored. Emma Architecten recently completed a clever bit of adaptive reuse, transforming elements of one-time stronghold Fort Diemerdam into a place designed for the modern public to appreciate in an entirely different context–less battle prep, more chilled-out afternoon.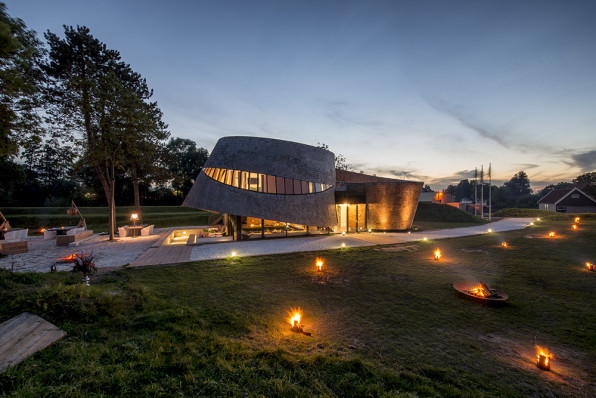 Pavilion Puur was constructed on the exact footprint of a former soldiers' shelter–which itself was found during archeological research and excavation–and the firm sought to honor its heritage with the new design. "We started looking for ways to simultaneously convey both an air of positive futurism, as well as a strong sense of the past," de Jong says.
A wooden wall covered in 40,000 natural shingles curves around the exterior, "protecting" the perimeter with a form that complements the subtle hills of the surrounding landscape, while openings in the slope allow for views of the varied environs: gun bays, the horizon toward Pampus island, and the adjacent fortress. The plan is set approximately 60 centimeters deep, in keeping with the original plans. "Visitors will sit slightly lowered, sheltered in the grounds." There's also a large basement built into the earthwork underneath.
Now, the locale is intended as backdrop for soirees like weddings and corporate events, with a robust seasonal social calendar. Says de Jong, "Young and old can enjoy indoor and outdoor atmospheric seasonal meals, tastings, and a cultural program with theater and music."
(H/T Designboom)