In its toy form, the Hoberman Sphere defines the term "fun for all ages." No matter how young or old you are, it's impossible to fully anticipate the effect as this lattice explodes in your hands–expanding its diameter five times–to become a giant, unwieldy dome.
Case in point: Designer Erik Stehmann (who we've featured before) never encountered the toy as a child, but as an adult, a Hoberman Sphere he received as a gift fascinated him. The fascination soon permeated his work, and he began considering the application of the geometric principles behind the sphere to everyday appliances. The result was his Expanding lamp. On one hand, it's a Hoberman Sphere with a light bulb. Yet on the other, it's a carefully crafted light fixture that can transform from desk lamp to floor lamp in seconds.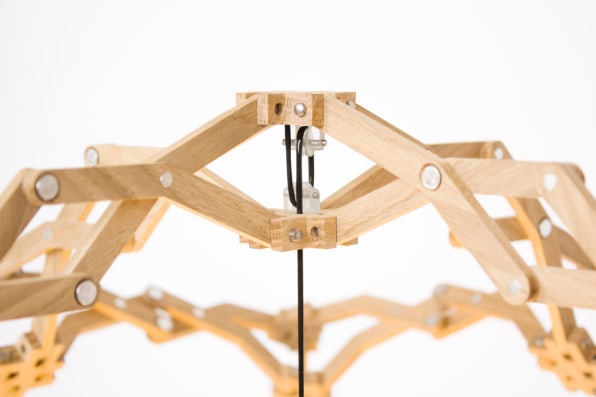 The project originally piqued his intellect as a diversion from his normal design patterns: Rather than build something complicated that looks simple, Stehmann had the urge to build something that was simple but looked complicated. Even still, the lamp's realization was painstaking. "It has taken a lot of calculating and trial and error to discover the appropriate angles of each piece," Stehmann tells Co.Design. "Normally, I don't sketch when I design, but in this case, I have had to use my computer to draw all the pieces, then calculate the angles and lengths of the arms."
Behind the geometry, Stehmann hides a bit of clever physics to realize the idea fully. The light bulb itself serves as a counterweight, which keeps the lamp standing. Meanwhile, a connected pulley system maintains the relative position of the bulb, whether the lamp is in floor or desk mode. Together, these two innovations make what would be a total gimmick into a usable, even practical, lamp.
As of now, the Expanding Lamp is only a working prototype. Stehmann plans to refine it with cheaper materials (both wood and plastic) in the coming year.
[Hat tip: designboom]