In the wake of Hurricane Sandy, there have been a flurry of ideas on how to deal with the prospect that storms of such magnitude may no longer be once-in-a-lifetime events but the most visible manifestation–if you're not a polar bear–of the havoc wreaked by climate change.
Seawalls. Levees. The kinds of things the Army Corps of Engineers typically builds to protect low-lying places like New Orleans just aren't feasible for a place like Manhattan, says Stephen Cassell, the cofounder of New York's Architectural Research Office. "It's hard to predict how bad climate change will be," Cassell says, noting that Sandy's devastating surge was nearly 14 feet, which wasn't even the worst-case scenario. "What if we build a barrier and the surge goes beyond that?"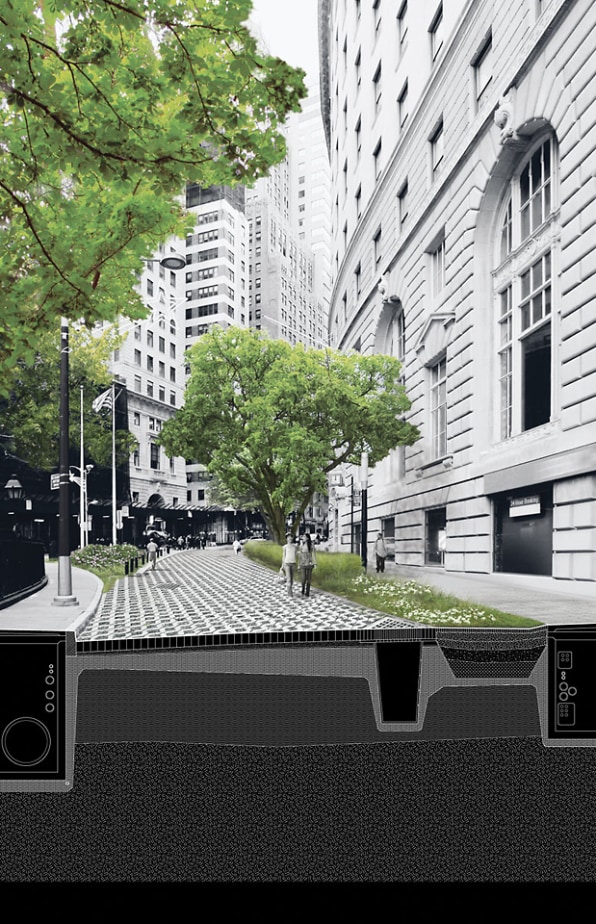 Instead, he and his partner, Adam Yarinsky, are proposing a solution that doesn't just address catastrophic scenarios but also New York's long-standing water-management problems. Their idea: A soft grade of wetlands surrounding the island that would buffer the city from storm surge, buttressed by a porous street system built to absorb rainfall and channel it back into the harbor. Water, sewer, gas, and electric services would be relocated to accessible, waterproof vaults beneath the sidewalk.
It's not such a radical idea, given that much of lower Manhattan–which was once hilly–is already flat landfill. "New York has always been transformed by infrastructure projects," Cassell says. "Look at the grid and the subway systems."
His design would address two problems: the damage from flooding, and the havoc wreaked by water hitting the island. "The wetlands would absorb the force of the waves and break them apart before they hit," Cassell says. Plus, it would have the lovely side effect of making New York a much greener city, ringed by lush marshlands.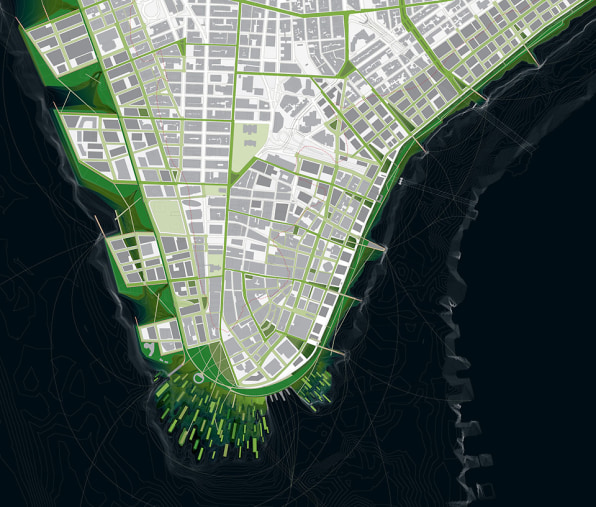 Quite apart from hurricanes, the proposal would address another nasty little problem afflicting the city. It's no secret to New York's water-management engineers (but maybe to the flocks of Iron Men triathletes who regularly jump into the Hudson) that the city's 100-year-old sewer system overflows after nearly every hard rain, releasing on average some 500 million gallons of effluent a week, or 27 billion gallons a year, into the river and the harbor.
The ARO solution, which was first proposed as part of MoMA's prescient 2010 Rising Currents exhibition, is emerging as one of the most promising of a range of ideas to address the problems that rose to the surface after Sandy. Other proposals include changes in building codes to relocate buildings' electrical systems out of basements and into higher floors, inflatable plugs that could inflate to keep water out of subway and transit tunnels, and rethinking what should be built at all in flood-prone zones like the Rockaways.
Cassell hopes the dialogue will concentrate on intelligent long-term solutions, not superficial fixes. "Post 9/11, the first response to security concerns was to throw up a bunch of jersey barriers," he notes. "We need to model different solutions and not be afraid of big projects."
A number of the proposals are expensive, he concedes, "but the cost of fixing the damage is so huge, it's all in how you look at it."