Online retail is super convenient, but it doesn't allow you to test out what you're tossing in your virtual shopping cart. Clothes are sometimes best tried on in the comfort of your own home, but if you're in the market for booze, wouldn't it be way more fun to try before you buy? Brazil wine distributor Mistral does most of its sales over the Internet but was looking for a brick-and-mortar outpost where clients could savor their experience, so it commissioned Studio Arthur Casas to create a store that truly showcased the product.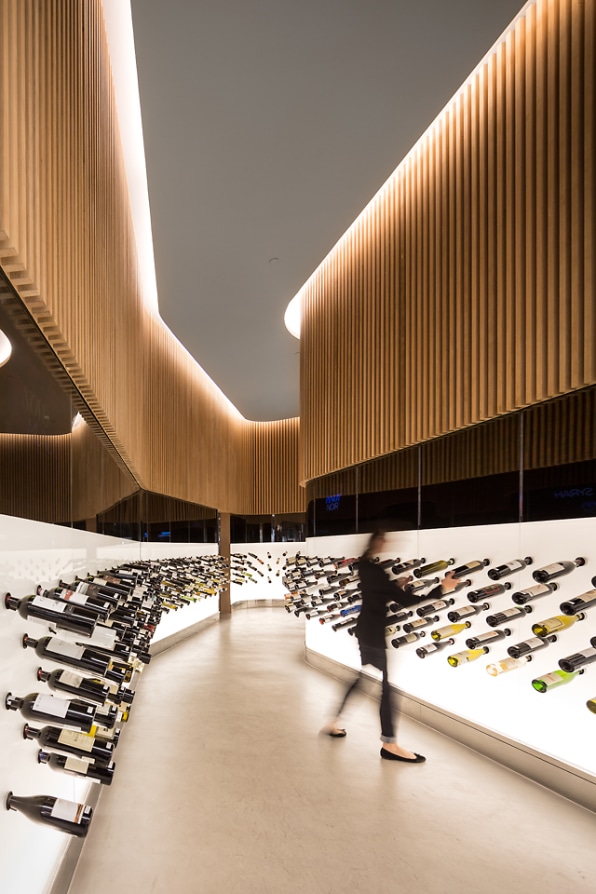 Curving interior walls artfully break up the 100-square-meter space while maximizing the area by creating a series of separate zones: sales, cellar, storage, interactive gallery, reading room, and, of course, tasting. Along with the recurring wooden laths that line the interior, the bottles themselves become a graphic motif that appears to suspend along the illuminated paths. There's even an "interactive table," where monthly selections are showcased, along with a Minority Report-meets-Sideways display of info about the varietal.
Whether you're an oenophile or casual sipper, the whole interactive environment is definitely more engaging than (yet another) Bud Light on the sofa in your undies.
(H/T Knstrct)