Designing low-cost housing is a series of compromises between dignity and pragmatism, a dance between what a family needs and what it can realistically afford.
In Vietnam, booming real-estate prices are coupled with growing numbers of families priced out of the market, forced into sub-par housing. In a country where the divide between rich and poor is dramatic and the average monthly wage hovers around $185, designing an affordable single-family home is something of a holy grail. But 36-year-old architect Vo Trong Nghia (whose website seems to be down) and his partner, Masaaki Iwamoto, are trying. Nghia's prototype of a modular dwelling for families in the Mekong Delta costs just $3,200.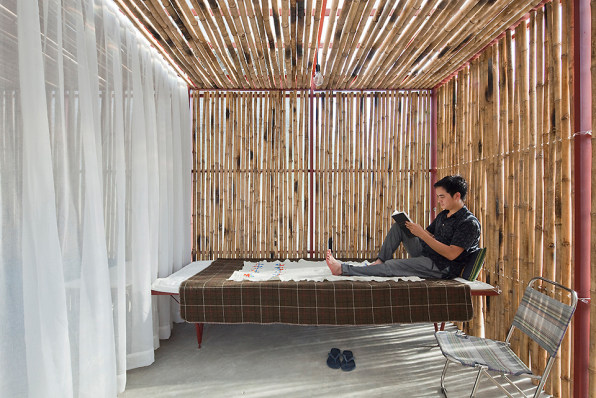 The 70-square-foot home is a series of amazingly efficient design moves. It's arranged to be built in pairs or trios, with families sharing a detached bathroom, which minimizes the amount of necessary services in the homes themselves. A simple steel frame that requires little special welding holds in place an envelope of transparent fiber-reinforced plastic, which lets in natural light through a series of bamboo louvres. "Both materials are available everywhere in Vietnam and are cheap, light, and replaceable," explain the architects. The angled roof–also made of FRP and supported by a light steel truss–is designed to facilitate rainwater collection.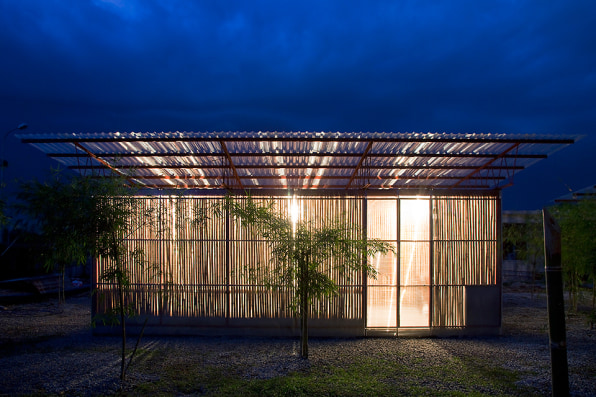 Iwamoto says that the super-lightweight home is designed specifically for the marshy lowlands where many poor families live. "If we make the house with concrete and bricks, which is the most typical structure in southeast Asia, it can be very dangerous even though the house itself is strong, just because of the soft and weak condition of the ground," he told Dezeen. "So we decided to design a lightweight structure within a squeezed budget."
Working on a site next door to a kindergarten that Nghia designed last year, the duo have installed two prototypes to test how they weather the year. They hope to find investors and potential customers within the next year. It's unclear exactly how the homes would be sold and constructed–Nghia imagines owners participating in the building process–but as a proof of concept, it stands on its own.
[H/t Dezeen]