In Tokyo, it's called the Big One. Even after the devastating earthquake of 2011, the city knows that there's inevitably a worse one on the way . . . eventually. Tomorrow? A year from now? A decade? A lifetime? It's an impossible situation: How can you earnestly prepare for a disaster, yet still live your life as if it's a life worth living?
SF Prep may be the answer. It's a concept by creative design and development firm Lunar, in conjunction with the AIA SF. And its basic idea is this: Have citizens subscribe to a simple service online–a service that will stock them with disaster-relief goods and keep them engaged–but in a painless, casual manner.
"Many well-intentioned organizations publish lists of essential items that we should have on hand and activities that we should do to be prepared. But the lists do not flow naturally into the chaos of our daily responsibilities," John Edson, president of Lunar, tells Co.Design. "Our goal was to create a system that overcomes these emotional obstacles. Not only do we break the process down into simple, actionable baby steps, but we also make it fun and rewarding."
SF Prep starts with a web portal. Simple iconography walks you through a store to buy the things you need in case of emergency–fire extinguishers, water, and radios–and the things you'd just want if the local bodega were closed–candy, coffee, or even booze. Wait, booze? Really?
"For most residents, a major earthquake means that our power and water service will be disrupted–and we'll be camping at home," Edson explains "Alongside the essentials, we let customers choose items that they want to have on hand, so that the camping-at-home experience can be manageable or even pleasurable."
The service ships you one thing you want and one thing you need each month, along with "do" cards in each pack. These do cards are steps you should take to prepare for a disaster, like copying IDs, backing up computer files, and making sure you have a stash of cash on hand. Every six months, you're prompted to consume your food (remember, packaged food eventually loses its nutritional value) and restock yourself with a new order.
So preparing for the Big One becomes as relaxed (and regular) as managing your Amazon Subscribe and Save shipments. And that's entirely the point. Consumerism is fun, while disaster prep is horribly depressing. Plus, with the marketplace model, SF Prep wouldn't need the funding of taxpayer dollars or good samaritans to stay afloat.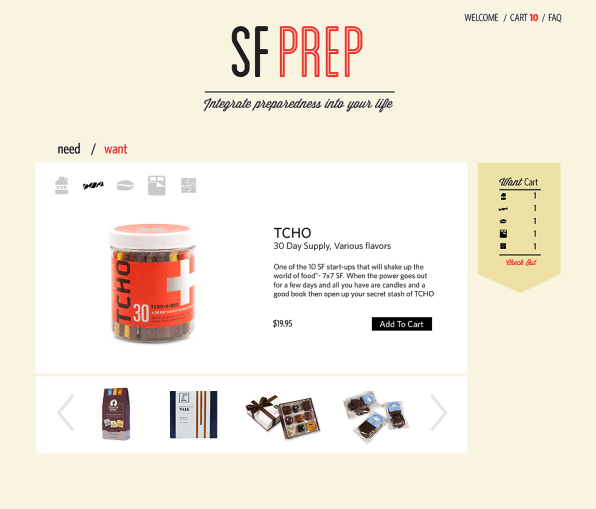 "There is a business here. Because we thought about this challenge from the perspective of the people we are trying to motivate, we have created a system that could turn city residents into customers of a rewarding new service," Edson says. "And there are obvious online and social extensions of the baseline system that we have designed–imagine earning credits that you can gift to the Red Cross working in disaster areas or converting your membership into a gift for a friend."
Now, in case of emergency, I'm not sure that I want to be cursing at my iPhone by candlelight, trying to donate five points to the local Red Cross, and that flask of aged rum may not be the best choice when I'm rationing my water supply. But you know what? Both options are a lot better than what I've got now: A few Hinckley Springs bottles sitting by my stove, and some cans of soup that are so vile I can't even bring myself to donate them.