Fantasies come in many forms. And while I'm sure yours and mine vary wildly, there are definitely some erotic archetypes that have emerged, and endured. Smile Makers is a new collection of vibrators that offer a playful take on pleasure: Each of the models–the Fireman, the Frenchman, the Tennis Coach, and the Millionaire–has an identity designed to titillate your brain, your funny bone, and, of course, your delicate bits.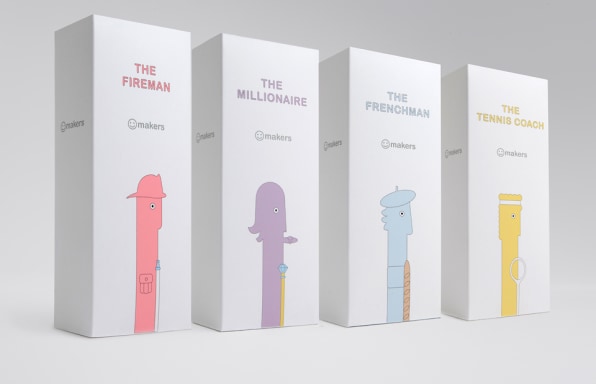 The company is actually the brainchild of a pair of Swedish guys. Mattias Hulting and Peder Wikstrom worked together at Procter & Gamble, then joined forces to form Ramblin' Brands in order to innovate new consumer goods in niche categories. Smile Makers is their debut and a concept they had been considering for about a decade–ever since Wikstrom went searching to purchase a vibrator in his homeland. "Availability was limited to dingy red-light shops, and the product assortment was either vulgar, boring, or very expensive. There was simply nothing that felt accessible in terms of communication, design, and price," Hulting tells Co.Design.
So they set out to introduce something new to the market, with a wink, and called upon creative collective Bear Meets Eagle on Fire Awesome to help craft a cast of unique characters. "They decided that irreverent humor would be the best way to disarm both the discussion around vibrators and the purchase occasion," Hulting says. "Being global, we needed something that works across cultures as much as possible. So, while American and Australian women would get the humor behind the the Pool Boy or the Plumber, most Scandinavian or Japanese women wouldn't." Though It would have been fun to see the list of stereotypes that didn't make the cut, the motley quartet chosen for the launch tested well with gals the world over.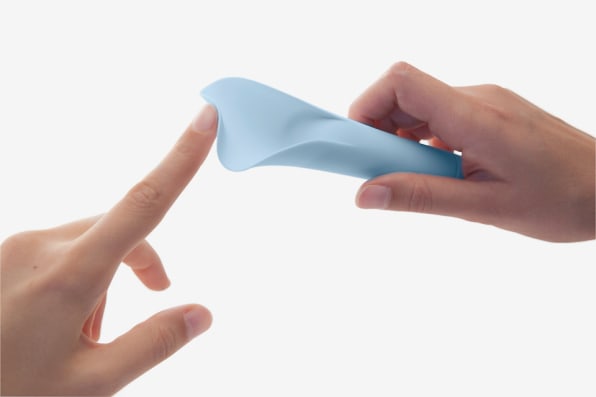 Once the poster boys were picked, it was time to perfect the physical gadgets themselves. "Basically, there are three kinds of vibrators: those that stimulate on the outside, those that stimulate on the inside, and those that do both." Go on . . . "We wanted to have one of each. Also, some women prefer soft, teasing vibrations and some prefer more powerful vibrations," Hulting says. Ian Swanson and Achille Lenglemetz of NiCELTD came up with a series of gestural-yet-functional forms that were matched up with the four guys, while a top-notch consumer-electronics manufacturer handled the technical interiors and production. "Having worked on Braun and Gillette power razors before, they were well-experienced in designing products that vibrate comfortably and quietly, with utmost focus on safety," Hulting says.
A large part of Smile Makers' intention is to remove the stigma surrounding sex toys, preferring to instead position them alongside beauty products in the retail space. It seems like the time is right, and that society's come a long way in the last 10 years; judging solely on the glut of designers getting in on the sex toy action–Yves Behar, Arik Levy, and more–and the amount of folks who are completely unashamed to read 50 Shades of Grey in public, there's less reason than ever to feel weird about buying things that feel good.
So will Smile Makers be introducing new dudes to the cadre? Whither the Artist, the Professor, the zeitgeist-y, catch-all Nerd? "We will, of course, be launching some new fantasies soon!" Hulting says. Time to stock up on those AAAs.
(H/T Dezeen)