A toy kitchen, some wooden blocks, a copy of Goodnight Moon: All of these are appropriate gifts for a toddler. But Liu Yang and Xu Dan, the architect parents of a two-year-old boy, had something different in mind when their son's birthday rolled around this year.
Instead, the Beijing-based duo decided to build a portable play structure. They bought a queen-size cargo bike and designed a black space frame that fit perfectly within the wide rear axle. After buying an 80-cubic-foot block of shimmering black foam, they got to work scooping out hundreds of chunks of the stuff by hand, creating cavernous rents in the cube's uniform surface. It took them two months to finish the rabbit's warren of nooks and crannies, which are lit from above by a small skylight and can fit several children or one thin adult (plus one pilot with powerful leg muscles).
Yang and Dan imagine the cavern–which they named Eyes Closed–as a space where their kid can play, nap, listen to songs, or watch movies. "Maybe the child and his father also can take a nap with eyes closed in here," they write in a poetic project description. "Maybe the child and his mother also can tell a story or listen to music with eyes closed in here." The density of the foam makes the cave nearly soundproof, even when it's being carted through the city.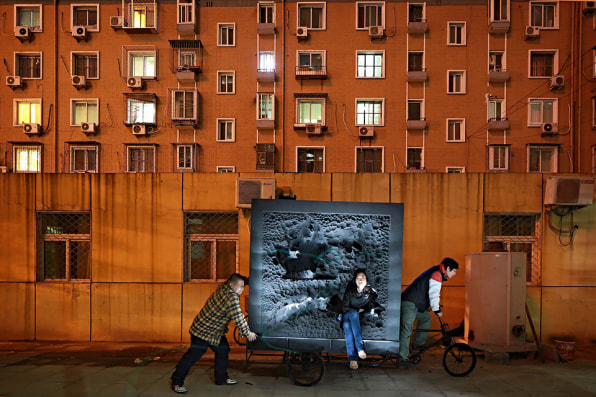 It strikes us that this gift may have been more enjoyable for the architects that designed it than for the child who received it. But then again, we're talking about an age group that usually finds gift boxes more exciting than gifts themselves–which would make this 240-square-foot cave the holy grail of presents.
[H/t Design Boom]