Facebook's Timeline is incredible. I can chart the important to not-so-important moments of my life, spanning all the way back to my birth. Twitter's search is powerful. I can see what anyone in the whole world is saying about a particular topic. But what if I just want to see all the sunset photos my friends have ever taken? Or what if I want to remember the spots I hit up during a hazy bar crawl in Atlanta two years ago?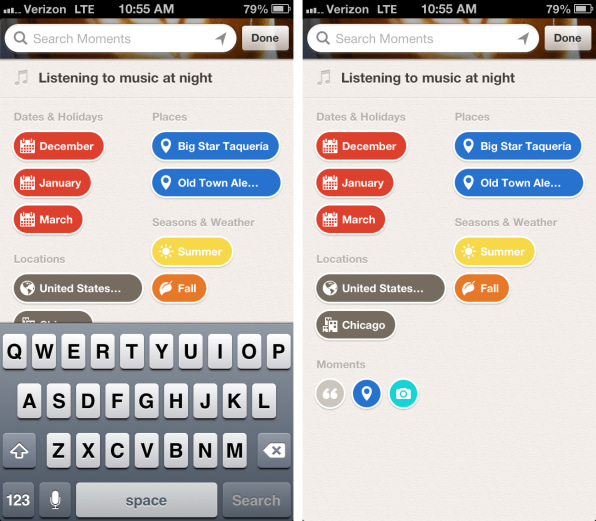 Path's latest update addresses the limitations of social networking search head-on and with considerable deftness. Within five minutes–despite having all of one active friend on the service–I was already convinced that there's no social network that approaches its balance of power, relevance, and approachability of search.
It starts with "Search Moments," a translucent bar hanging over your feed's cover photo. Click it, and you're seamlessly taken to a whole search page. From there, you can keep typing whatever you were looking for–"tacos" maybe–and the backend will hunt through your status updates, along with those of friends, to compile a list of taco-oriented posts. But even more impressively, this page has some unique suggestions. It lists places I've gone to frequently, like the fantastic taqueria Big Star, and it also suggests the location of the taqueria, the city Chicago (and possibly even the neighborhood, Wicker Park). These pre-chewed searches are brilliant because they're based largely upon your own history–they're things that matter to you because you've shared them–and so they'll probably make interesting search topics to you, too.
Thanks to some clever metadata crunching, these searches can also dig deep. To TechCrunch, Path gave the example of searching the term "sunset." Obviously, any post tagged or containing "sunset" will appear in your results. But Path also leverages a bit of backend logic to time sunsets to regional locations, then cross reference posts based on that information. In other words, it might find a sunset photo that no one ever labeled as a sunset. (Though it will inevitably misguess quite a bit with such logic.)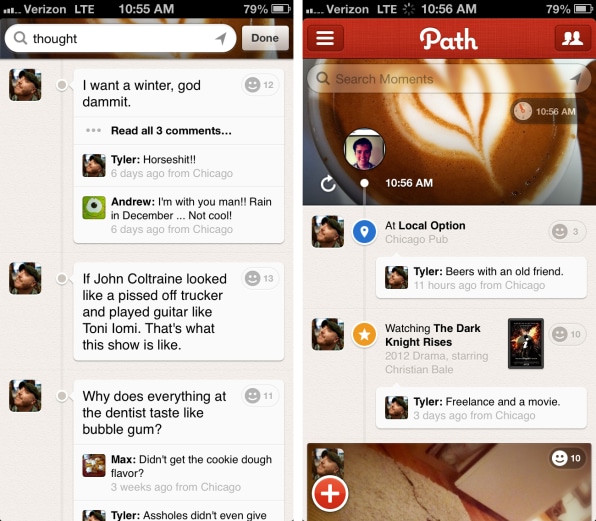 Equally interesting, you can also invent some powerful, secondary-style use cases with the new search. For instance, say you're traveling to a new town. Searching "nearby" will allow you to see the hot spots your friends have visited in that town. The results aren't just another list of bars and restaurants you can get anywhere; they're a personalized set of recommendations that puts Yelp to shame.
Path's success in search is a blend of simple frontend design, customized to your tastes, backed by an aggressive, intelligent logic. My only regret is that, with only one friend on Path, I can barely take advantage of its search features. But I am curious–as you can now import old Facebook, Instagram, and Foursquare posts into your Path history–could Path become the best, most beautiful way to search through your existing social networks?
If only I could convince each and every one of my Facebook friends to sign up for Path, I guess I could find out.